Euroteck Systems collaborates with digital and portable X-ray solutions provider
03/05/2017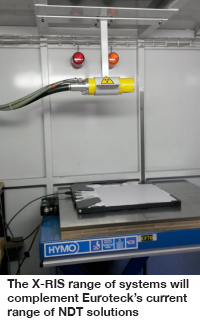 Euroteck Systems UK Limited has announced its collaboration with X-Ray Imaging Solutions (X-RIS) to promote the sales of X-RIS digital detector array (DDA) radiography equipment and Maestro NDT software in the UK and Ireland.

Since 2010, X-RIS has focused all of its energy on the development and delivery of:

The DeReO WA-P (wide area-portable), UP (ultra-portable) and HR (high-resolution) range of DDA flat panels designed for indoor and outdoor applications

DeReO WA-F (wide area-fixed) and RT (real-time) flat panels in order to upgrade customers' existing X-ray cells working with films or image intensifiers to digital

Maestro NDT software, a very user-friendly NDT image acquisition and image treatment software that complies with DICONDE, ISO 17636-2, SAFRAN PR 5250, Nadcap, etc. In addition, the Maestro NDT software can control a large range of X-ray generators, axes and robots.

Nicolas Poelst, Sales Director at X-RIS, said "X-RIS's growth is very impressive. In my opinion, this is thanks to our team, which is very application-oriented and dedicated to the development and supply of user-friendly systems to its customers. As well as this, X-RIS benefits from the dynamic investment plans of aerospace and aeronautic industries, but X-RIS is also very active in providing solutions for oil & gas and shipyard applications."

Ian Winstanley, Sales Director at Euroteck Systems, agreed: "X-RIS supplies a complementary range of systems to Euroteck Systems' current range of NDT solutions, especially for foundries that want to go digital or for companies manufacturing large aeronautic structures. In June, Euroteck and X-RIS will jointly hold a roadshow in the UK. This will be a great opportunity to demonstrate at new and existing customers' facilities. We will also have an open day at our Tamworth factory. The X-RIS reference list is impressive and we look forward to working with them."

For further information or to discuss hosting a demonstration, contact: sales@euroteck.co.uk
www.euroteck.co.uk
www.xris.eu