Arrow Electronics partners with ADLINK and Microsoft
08/11/2019
Arrow Electronics has teamed up with ADLINK and Microsoft to launch an Internet of Things (IoT) solution to help industrial customers reduce costly unplanned production shutdowns by enabling machine condition monitoring.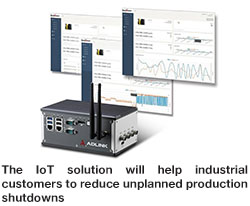 The solution is the latest from Arrow's IoT aggregation programme and continues the distributor's efforts to help industrial companies to quickly, securely and cost-effectively deploy and scale projects. ADLINK's Edge IoT solution for machine condition monitoring includes integrated edge hardware and real-time data-streaming software built for data acquisition and vibration measurement applications to deliver continuous vibration monitoring for rotating machinery and equipment.

The solution integrates data collection, vibration analysis algorithms, computation and network connection tasking in a single ultra-compact edge device, ADLINK's MCM-100. It enables preventative maintenance of machinery, tooling, plant equipment and automation equipment, with fast and simple set-up and configuration.

To build and deploy the MCM-100, Arrow worked with Microsoft's Azure IoT Central, an IoT app platform that removes the complexity of operating, managing, securing and scaling an IoT solution. Without the need for deep cloud expertise or worrying about managing infrastructure, Azure IoT Central enables companies to deploy the MCM-100 and achieve real business value faster.

Arrow integrates the hardware and cloud-based software to provide a complete, repeatable solution that utilises the industry-leading platforms from ADLINK and Microsoft.

Leveraging its network of IoT providers as well as its own internal experts, Arrow's IoT programme brings together both hardware and software to deliver market-ready solutions that fit companies' individual needs. Arrow offers services, support, customer management and a single point for billing hardware and cloud services.