JME celebrates 30th anniversary in style
13/09/2016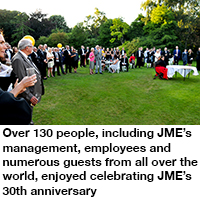 JME Advanced Inspection Systems is a global market leader in the design and manufacture of high-quality inspection systems for the NDT industry.

On 6 August 2016, JME Advanced Inspection Systems celebrated a major business landmark – its 30th anniversary. This memorable event took place at Parkhill, an elegant country house hotel set within acres of beautiful private gardens, located in Lowestoft, the United Kingdom's most easterly town.

Over 130 people, including JME's management, employees and numerous guests from all over the world, enjoyed a luxury BBQ, live music and entertainment.

JME's history dates back to the 1980s, when a talented engineer, John William Macleod (1938-2006), started the company John Macleod Electronics. Over 30 years, the company has grown from five to over 40 employees and has become a highly-respected business serving the global NDT industry.

During the 1960s, John headed geoseismic exploration teams in remote regions of the world, using reflective shock waves to locate and identify potential hydrocarbon-bearing strata (anticlines) at subsurface depths of up to several kilometres, prior to commencement of wildcat drilling.

In the 1970s, John applied his expertise in the development and manufacture of 'remote-controlled self-contained X-ray machines' (internal crawlers) for the radiographic inspection of circumferential (butt) welds, used in long-distance onshore and subsea pipelines during construction. In 1986, in order to progress and extend his engineering concepts, John formed his own company, John Macleod Electronics, now JME Advanced Inspection Systems. John sadly passed away in 2006, but with commitment to quality, support and product innovation, driven by the current team at JME, John's legacy continues.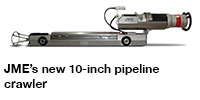 This year also saw the unveiling of the next generation of JME pipeline crawlers at the 19th WCNDT in Munich. This upgraded crawler range is capable of driving a wide variety of X-ray generators and gamma projectors, enabling internal panoramic single-wall, single-image (SWSI) radiography to be carried out in pipe diameters from 6" to 72".

Upgrades to the crawler construction have improved the crawler's corrosion resistance and ease of maintenance and created an extended service life, while high-specification electronic components increase reliability in harsh environments. A larger battery capacity and alterations in the drive allow for greater efficiency, which contributes to an increased travel distance and a higher number of exposures.

The new upgraded range of crawlers also features a unique touch-screen remote handset, a multi-language unit that allows external control and real-time information on the status of the crawler within the pipe. It can be used to configure the X-ray generator or gamma projector both before and during operation. The user can configure the output of the tube along with the required exposure time. The handset can also be used to enable/disable sensors, adjust the crawler drive speed and command crawler movement, providing assistance when loading it into the pipe. If the system is being operated with JME's 'Magnetope', the sensitivity of the magnetic detectors can be selected using the handset, removing the need for analogue configuration.

JME's product range is not limited to the JME Pipeline Crawler System. The company also specialises in betatron X-ray systems, digital X-ray inspection systems and bespoke systems from design to completion, all from its facilities in the UK. JME's in-house design team specialises in working with client briefs to provide bespoke solutions.

www.jme.co.uk