The First World Congress on Condition Monitoring 2017 exceeds expectations
05/09/2017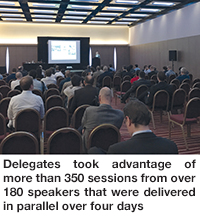 This year saw the introduction of the First World Congress on Condition Monitoring 2017 (WCCM 2017). The congress was organised by the British Institute of Non-Destructive Testing (BINDT) in co-operation and partnership with the International Society for Condition Monitoring (ISCM).

Professor Len Gelman, Chair of the organising committee for the congress, commented: "These two leading organisations together created the largest event of its kind at a truly international level and this was of major significance, being the first world event in its field. I am extremely delighted with the positive feedback obtained, with delegates commenting in particular on the excellent organisation, high quality of technical presentations and good networking opportunities."

The maiden outing of the congress, held at the ILEC Conference Centre, London, from 13-16 June 2017, was attended by nearly 300 delegates from 37 different countries. The full programme featured more than 350 papers from over 180 speakers and was delivered in six parallel sessions over three days plus one extended day of seven sessions. Additionally, a training workshop and an equipment exhibition were held on Wednesday 14 June 2017 alongside an exhibition comprising 24 sector-specialist companies that took place on the second and third days of the congress.

Cameron Sinclair, CEO of BINDT, said: "This was one of the best events that I have ever attended. The overall quality was excellent: the papers, the presentations, the goods and services on show during the exhibition, the venue and the food and, of course, the people in attendance. All of this combined to make it a very informative and enjoyable few days. Furthermore, over 30 countries were represented and the number of delegates exceeded expectations. I am looking forward to the Second World Congress on Condition Monitoring, as I suspect most attendees are. The event is sure to build on the success of this, the first such congress."

As a joint organiser of WCCM 2017, BINDT would like to say thank you to all delegates, speakers, exhibitors, sponsors and staff of the venue for supporting the congress and creating a solid foundation for the future of this truly excellent event.