Advanced data management and storage service
05/09/2018
Hitachi High-Tech Analytical Science Corporation, a Hitachi High-Technologies Corporation wholly owned subsidiary engaged in the manufacture and sale of analysis and measuring instruments, has revealed its latest data management and storage service, ExTOPE Connect, for its range of Vulcan and X-MET hand-held and LAB-X500 bench-top industrial analysers.

ExTOPE Connect provides users with real-time access to results from any computer, anywhere that an internet connection is available, enabling the effortless management of one instrument or a fleet of instruments from one centralised location. With unlimited data storage and the back-up of results to a cloud service, if any questions should arise later, information is readily available for inspection or an audit trail.

Users of the Vulcan and X-MET8000 series of hand-held analysers will also have access to the Android or iOS ExTOPE Connect app. Once the analyser is connected to a mobile phone device, results can be shared instantly via text message, email or WhatsApp. Results can also be uploaded to the ExTOPE Connect cloud data management and storage service, including photos of samples and measurement results, to maintain a centralised repository of results. The app allows results and labels to be printed when connected to a network printer, making the whole process more efficient.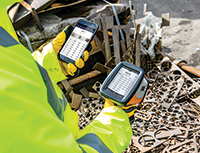 Mikko Järvikivi, Hitachi Product Business Development Manager, said: "For over 40 years, we have been constantly improving our products and services to ensure they are cutting edge and future proof to meet the evolving needs of our customers. ExTOPE Connect is our latest advancement in providing state-of-the-art data management and storage services for customers, which we know is critical for many as they seek operational efficiencies."

www.hitachi-hightech.com/hha