AVT Reliability to showcase unique pipework vibration solutions for oil & gas industry
12/09/2019
Plant reliability specialist AVT Reliability® will demonstrate its unique range of vibration solutions at the Energy Institute conference in October, focusing on the management of major accident hazards associated with oil & gas assets.

The Asset Integrity Management conference, to be held in Aberdeen from 2-3 October 2019, provides a platform for a wealth of cross-industry research, innovation and best practice relating to the assessment and management of common major accident hazards.

AVT Reliability will show conference visitors a range of solutions that can help to ensure that they comply with the Energy Institute's pipework vibration best practice guidelines for preventing leaks caused by vibration-induced fatigue. The company will be demonstrating its unique universal small bore connection (SBC) anti-vibration bracing system, Easy-Brace®, a low-maintenance solution that increases plant integrity and reduces the risk of safety incidents.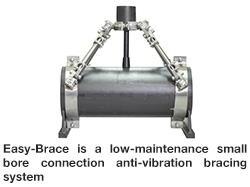 The UK-based company has launched a range of products in the past year, which are helping to revolutionise condition-based maintenance (CBM) approaches, increase safety and reduce operational costs. These include the web-hosted condition monitoring system Machine Sentry®, which can consolidate a wide range of data on one platform, and the ATEX-approved wireless MSF-1 triaxial vibration and temperature sensor, which allows data to be collected from up to 50 m away and incorporates automatic fault diagnosis assistance, which can identify and report on more than 20 common machinery vibration-related conditions.


The Asset Integrity Management conference will be held at Ardoe House Hotel, South Deeside Road, Aberdeen, UK.