Element completes extraordinary programme of integration
02/09/2019
Element Materials Technology has announced that it has completed the formal rebranding and integration of Exova Group plc. Acquired in June 2017, this transformational transaction, the second largest in the history of the testing, inspection and certification (TIC) market, has created a world-class, customer-first testing organisation with increased capabilities, greater capacity, a global geographic reach and superior technical strength.

Following the completion of the acquisition, Element established an in-house central programme management office (PMO) to drive the delivery of seven major phases of integration and rebranding across locations in the Americas, Asia, Australasia, Europe, the Middle East and Africa, that saw an Exova laboratory being rebranded, on average, every four working days. In addition, the Group's central functions went 
through their own integration process. Teams were brought together, systems and processes streamlined and combined, group-wide policies created and single integrated functions formed.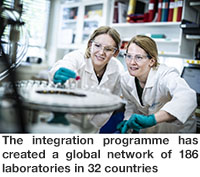 The scope of the integration programme has covered 135 locations, 4370 colleagues, five customer relationship management (CRM) systems, 61 laboratory information management systems (LIMSs), five external and internal websites and 16 customer portals. The Group also aligned a number of closely-sited laboratories, creating centres of excellence in: Detroit, Michigan, for transportation; Huntington Beach, California, for aerospace; and Aberdeen, UK, and Houston, Texas, for oil & gas.

Charles Noall, President and CEO of Element, commented: "I am incredibly proud of this extraordinary programme of integration that has been delivered by the Element global community of hard-working, dedicated and talented experts.

"In the last two years, the Group has gone through a remarkable transformation. We have more than tripled our scale and created an interconnected global network of 186 laboratories in 32 countries with over 6500 talented engaged experts and we will continue to pursue further efficiency opportunities to better serve our customers.

"The 40,000+ customers that we serve are at the heart of everything we do. With more laboratories and even greater technical strength, Element has the scale, capabilities and expertise to serve the increasingly diverse needs of our clients, providing global solutions at a local level.

"We will continue to strive to be the best and most trusted testing partner for our customers, providing certainty to the performance of their products, in which safety and quality are paramount and failure is simply not an option."

www.element.com