RBG awarded major contract by BP Caspian
08/04/2008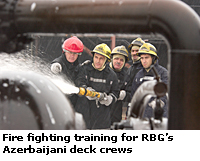 RBG Limited (RBG), the integrated oil, gas and petrochemicals services contractor, has been awarded a four-year contract by BP Exploration Caspian Sea Ltd to provide operations and maintenance support services on offshore and onshore assets.

From its Baku base in Azerbaijan, RBG has been the incumbent provider of these services over the past four years and, following a highly competitive tender process, it commenced delivery of the new contract in January 2008. The contract value is estimated to be in excess of US$20 million per annum and some 200 personnel are employed on delivery of the associated services.

The contract workscope will be delivered on the five offshore assets that make up the Azeri-Chirag-Gunashli (ACG) field along with the Shah Deniz platform, the Sangachal oil terminal and three onshore pipelines which run through Azerbaijan and through Georgia. RBG will provide a wide range of its integrated, essential maintenance services, including operations support, deck crews and helideck operations (offshore only), Aqua-Dyne specialist cleaning, rope access, scaffolding, painting, insulation, passive fire protection, heat tracing, rigging and lifting, and Durastic flooring.

RBG's General Manager (Caspian), Rennie Smith, told ndtnews.org: "We are delighted to secure this important contract, which we believe reflects the high quality of our service delivery and our exemplary safety record over the past four years. We are looking forward with confidence to continuing our long-term plans for local employment, people development, innovation investment and continued service excellence in the Caspian region."

With significant operations in the Caspian since 1996, RBG is an established service provider to the local oil and gas industry in Azerbaijan and the surrounding region. The company successfully delivers integrated maintenance services to numerous major projects from its bases in Baku and Aktau in Kazakhstan, with the majority of its employees being from the local community.

Playing a key part in RBG's success has been its efforts to develop an existing Azerbaijani and Kazakh national workforce with limited previous experience of working to the international standards demanded by international clients. The company has been singularly successful in training and developing its local workforce by providing specialist offshore and trades discipline training at its dedicated training facilities in the UK and Azerbaijan.

In June 2006, RBG was named as 'Employer of the Year' by BP-operated Enterprise Centre in Azerbaijan in recognition of its 'outstanding business performance and commitment to develop the skills and expertise of its Azerbaijani personnel'. It was shortlisted for the same award in 2007.
Doug Sedge, RBG's Chief Executive Officer, commented: "RBG has as an extensive relationship with BP supporting operations in the UK, Trinidad, USA, and the Caspian region. We also support BP's procurement activities internationally through our Quality Services division. This award from BP on behalf of its co-venturers in Baku is a great achievement and is a testament to our continuing commitment to local content and sustainable development."