Renting provides access to high-value inspection equipment
18/04/2008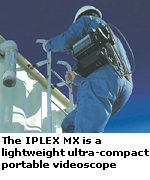 A growing number of test and inspection engineers using Ashtead Technology Rentals have experienced the benefits of hiring over purchasing on a range of the company's Olympus Industrial Iplex Videoscope products.

Ashtead is the official rental partner of Olympus Industrial and has a vast range of remote visual inspection instruments (RVI) available for hire, including the Iplex Advanced and MX Videoscopes.
The high-resolution instruments can be hired for use in a number of applications and can save both time and money on a range of projects as an alternative to buying the products outright.

Ashtead customers have used Olympus RVI equipment on a wide range of applications including cooling tower inspections, internal cavity inspection within old walls, motorway bridge internal inspections and high-speed machinery inspections. Additionally, the BBC hired specialist cameras to film parts of the 'Life in the Undergrowth' series.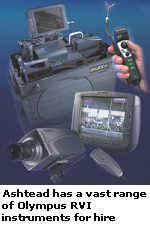 The Iplex Advanced, an industrial endoscope, is designed to handle a wide range of tasks such as gas turbine, boiler and tank inspections along with aircraft maintenance. It combines unparalleled
ease of transportation and set-up with advanced features such as direct PC connectivity.

The Iplex MX is a lightweight ultra-compact videoscope system which uses an internal battery resulting in new levels of portability. The portable videoprobe combines the features of the larger Iplex with the ability to operate in areas with restricted access and power and is commonly used in building and engineering surveys.

James Carlyle, Ashtead's General Manager, explains: "There are many benefits of hiring over purchasing. At Ashtead we have the very latest technology available, some of which would be very expensive to purchase, and therefore we cut out the capital cost associated with buying. Additionally, every single instrument at Ashtead is delivered fully calibrated and ready for action."