BSI hosts ISO Technical Committee meeting on condition monitoring in London
13/12/2017
In June this year, BSI hosted the latest meeting of ISO/TC 108/SC 5.

BSI's Committee GME 21/7 mirrors ISO/TC 108/SC 5 and both are currently chaired by BINDT Council member Simon Mills (UK).
Background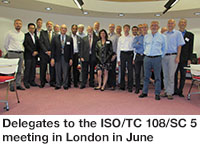 ISO/TC 108/SC 5's parent committee is: ISO/TC 108 Mechanical vibration, shock and condition monitoring (see www.iso.org/committee/51402.html).
Note: The ISO/TC 108 secretariat is the American National Standards Institute (ANSI).

ISO/TC 108 scope: Standardisation in the fields of mechanical vibration and shock and the effects of vibration and shock on humans, machines, vehicles (air, sea, land and rail) and stationary structures, and of the condition monitoring of machines and structures, using multidisciplinary approaches.

ISO/TC 108 has a number of sub-committees and condition monitoring is the responsibility of SC5: ISO/TC 108/SC 5 Condition monitoring and diagnostics of machine systems (see www.iso.org/committee/51538.html).
Note: The ISO/TC 108/SC 5 secretariat is Standards Australia (SA).

ISO/TC 108/SC 5 scope: Standardisation of the procedures, processes and equipment requirements uniquely related to the technical activity of condition monitoring and diagnostics of machines systems in which selected physical parameters associated with an operating machine system are periodically or continuously sensed, measured and recorded for the interim purpose of reducing, analysing, comparing and displaying the data and information so obtained and for the ultimate purpose of using this interim result to support decisions related to the operation and maintenance of the machine system.
Report on ISO/TC 108/SC 5 meeting 2017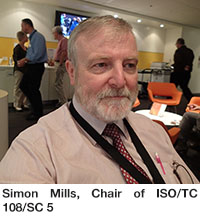 ISO/TC 108/SC 5 met from 19-23 June 2017 at BSI, Chiswick, London, and was chaired by Simon Mills. The meetings were attended by over 40 delegates from Argentina, Australia, Belgium, Canada, the Czech Republic, Denmark, Finland, France, Germany, Japan, Norway, Portugal, Russia, the UK and the USA.

SC5 has a portfolio of 24 published ISO standards covering vocabulary, diagnostic and prognostic procedures, CM techniques and training and qualification (see www.iso.org/committee/51538/x/catalogue/p/1/u/0/w/0/d/0).

Current work in ISO/TC 108/SC 5
There is also ongoing work maintaining the portfolio and developing other CM technique-based standards, including lubricant analysis, and developing further CM applications standards, for example for wind turbines and hydroelectric machines (see www.iso.org/committee/51538/x/catalogue/p/0/u/1/w/0/d/0).

Latest news

ISO/PRF 17359 Condition monitoring and diagnostics of machines – General guidelines


The umbrella document of the CM portfolio is ISO 17359. It was first issued in 2003, revised in 2011 and is currently at proof, being re-issued as a 3rd edition.

ISO/FDIS 18095 Condition monitoring and diagnostics of power transformers


A new standard on CM of power transformers is at final draft stage and is close to being published.

ISO 16079-1:2017 Condition monitoring and diagnostics of wind turbines – Part 1: General guidelines


A new application standard for wind turbine CM that is at publication stage.
ISO/TC 108/SC 5 social event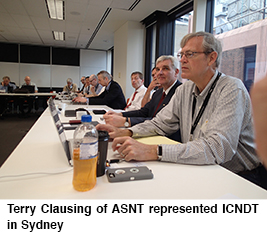 At the London meetings, a sponsored social event was held on the evening of 21 June. The event was kindly co-sponsored by Beran Instruments Ltd (Pete Morrish), BINDT (Cameron Sinclair), Faraday Predictive (Geoff Walker), Reliability Maintenance Solutions (Dean Whittle) and SpectrumCBM (Simon Mills). BINDT also donated BINDT-branded conference bags, which were very much appreciated by the meeting delegates.

The result was a very well-received social event at The Gunnersbury, which is almost opposite BSI headquarters on Chiswick High Road. The social event included a free buffet and drinks and was well attended by delegates from the countries mentioned previously. Mike Farley (ICNDT) was also kindly able to attend. ISO/TC 108/SC 5 is pleased to continue welcoming ICNDT as a liaison member. The previous SC5 international meeting was held in Sydney, Australia, in March 2016 and was attended by Terry Clausing on behalf of ICNDT.
Editor's note
An article in the January 2018 issue of Insight will present details of the current status of ISO condition monitoring standards.