Compact thermal camera for hot working zones
18/01/2023
Teledyne FLIR has announced the launch of the FLIR Cx5, a new pocket-portable thermal camera for condition monitoring in hazardous environments. The FLIR Cx5 has a rugged ATEX-compliant case, which allows users of this camera to safely monitor electrical or mechanical assets in hot working zones.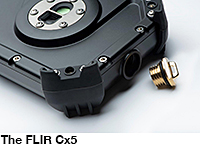 Potentially explosive environments, such as oil & gas plants or chemical plants, need to be protected from ignition sources. That is why electronic devices used in these hot work environments need to comply with ATEX product regulations or similar regulations (for example UKEX and IECEx). The 160 × 120 pixel FLIR Cx5 is mounted in a rugged enclosure, which enables users to work confidently while maintaining safety.
The FLIR Cx5 camera has all of the ruggedised features that will enable it to survive the toughest day on the job. Its case has shock absorbers and the lens is protected by a germanium window with an anti-reflective coating. The 3.5" colour display is protected by armoured glass and is touchscreen compatible. A rugged lanyard point can be removed in safe environments to reach the data storage and charging port.
The FLIR Cx5 features a FLIR Lepton thermal imaging sensor and FLIR-patented MSX (Multi-Spectral Dynamic Imaging) technology, which embosses visible scene details onto thermal images. This results in a crisp thermal image, enabling inspectors to instantly pinpoint hidden problems.
The FLIR Cx5 is compatible with FLIR Ignite, a secure cloud storage solution that allows users to directly upload, edit, organise and share their images. With all images and videos in one place, sharing data with team members and creating reports for customers is convenient and simple. FLIR Cx5 users can also rely on the FLIR Thermal Studio software to finetune their images and create professional reports.