AGR Field Operations welcomes a new member to the team
14/06/2010
As part of its continued growth and expansion plan, AGR Field Operations has recently recruited a new software engineer to join its Design & Development team, which is headed up by leading software designer Ian Baker.

David Quayle joins the AGR Field Operations team and will assist with the development in the advanced software that has become so well respected within the industry. David told NDT News: "It's great to join such a dedicated and flexible team who are both professionally and personally committed to offering not only leading-edge advanced ultrasonic equipment but also the highest levels of customer service."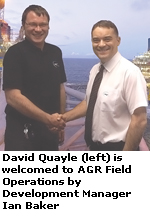 Development Manager Ian Baker, who heads up the team of software and hardware developers, comments: "Here at AGR we are not only known for designing and supplying some of the world's most innovative and advanced equipment available but also for writing some of the industry's most advanced software to accompany the systems that we sell. We have a continual development plan that allows us to monitor not only the NDT industry but also the advancement in electronics and component technology – offering great improvements in speed, miniaturisation, portability and so on. David will be a great asset to our company's technology development plan and in allowing us to maintain a service that exceeds our customers' expectations."

Based in Cheshire and part of the AGR Group of companies, AGR Field Operations is dedicated not only to designing and manufacturing some of the world's most innovative and advanced equipment available but also to giving a service that they feel is second to none. This has seen the company grow into a progressive force that operates on a global scale with a continual demand for products and services from both new and repeat clients.

The company continues to grow as it continues to assist, listen and support those who are perhaps just entering the market and need guidance from a company that operates with complete integrity and one that will always ensure its customers have the latest and innovative products at their disposal.

AGR is a company which continues to move forward and operate at such levels and constantly assesses their business operations against their own core values, which are Progressive, Recognising, Innovative, Dedicated and Energising.