NewGen NDT uses WCNDT to launch full NDT penetrant process management system
01/06/2016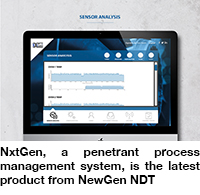 NewGen NDT Ltd has a genuine passion for NDT. The company's two directors have a combination of over 50 years' experience in the major industries, from shop-floor right through to senior NDT management positions.

"We are dedicated and committed to making a positive contribution to the NDT community by developing solutions that address quality and production simultaneously, to ensure that their customers gain the maximum value from their NDT department," said NewGen NDT Director Marc Berry.

"Quality and production clash on a daily basis, with the production department wanting the parts out of the door urgently to meet delivery demands and quality personnel wanting to ensure that all the requirements are conforming," continued Berry. "This often causes NDT to be deemed non-value-added and a necessary evil in most companies."

NewGen NDT has recognised that throughout the industry this is a common issue that needs to be addressed.

The majority of NDT used in the production environment does not utilise or integrate modern technology in order to drive improvement within the process and track quality issues.

"We understand the importance of a harmonised quality and production NDT department," said Marc Berry. "Our latest product, NxtGen, which is a penetrant process management system, is currently under development and will be ready to be showcased this month at the 19th World Conference on Non-Destructive Testing in Munich.

"All of the team at NewGen NDT Ltd are very excited to not only attend but also exhibit our new product at the world conference and we welcome everyone who is attending or exhibiting to come over and help us celebrate the launch of the company and our first major exhibition."

NxtGen is a full NDT penetrant process management system covering calibration, process control checks, personnel certification and equipment qualification. It provides pre-warning for key personnel, such as NDT Level 3s, quality managers and production managers, if the expiry is due.

NxtGen identifies:

Out-of-tolerance equipment

The live status of the NDT process

Incorrect or incomplete process control checks and notifies appropriate personnel.

The NxtGen system also displays the dynamic live readings as well as storing historical data that can be used to:

Monitor temperature, pressure and the exact running times of NDT processes with a live alarm system that will notify key personnel if any are out of tolerance;

Produce automatic reports for NDT Level 3s to validate the conformance of a process if anything is non-conforming to governing audit bodies (Nadcap, etc), national and prime customer requirements, etc;

Control live monitoring with local and online remote access;

Conduct the automatic semi-populating process control checks and recognise any human error or incomplete process control sheets, notifying designated personnel (for example NDT Level 3, Quality Manager or Production Manager).

The system incorporates automatic data analysis and automatic report creation and distribution, covering all quality and production aspects, including:

Component pass/fail statistics

Monitoring of defect rates per part numbers per operators

Conformance and non-conformance to all baseline requirements

True processing times of line with capacity reports.

Visit NewGen NDT on stand B16 in Hall B0 at the 19th World Conference on NDT in Munich, Germany, from 13-17 June 2016.

www.newgenndt.com