Strategies for equipment inspection and maintenance
17/03/2016
There can be nothing more frustrating than a vital piece of equipment failing to perform when it is needed most. Not only can this result in infuriating delays and unforeseen expenses, but it can also affect production performance, let down customers and damage a company's reputation. Maintenance is a vitally important component of risk reduction and is most effective when predictive maintenance is employed in conjunction with an effective test and monitoring regime. However, in order for this monitoring to be as effective as possible, it is necessary to utilise high-quality test equipment that is itself well maintained and calibrated. These instruments should be able to perform the latest tests, employ the latest technologies and run the latest software.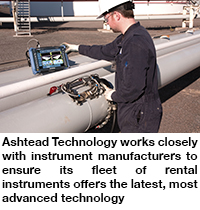 Regular inspection and maintenance does not necessarily guarantee successful avoidance of downtime. It is important that the correct inspection strategy is adopted and that the quality of the inspection work is sufficient to enable proactive maintenance. Monitoring regimes that are either reactive or preventative are more likely to fail. Where it is assumed that equipment will reach a 'wear out' date, preventative maintenance may seek to postpone this, often as part of a conservative maintenance schedule. This time-based approach can be expensive in comparison with a functional and condition-based strategy. Reactive maintenance is very much a 'fail and fix it' approach, which is inherently expensive due to high repair costs and the resulting costs of downtime.

Best practice when maintaining equipment requires a predictive and proactive strategy, which not only monitors actual equipment condition but also investigates any drop in performance and corrects this at the source. This may mean that organisational procedures may need to be changed. For example, if a specific component is found to perform poorly, re-design or the identification of an alternative source may be necessary. Swiftly and expertly responding to equipment condition ensures flawless operation, prolongs equipment functionality and improves economic performance.

An efficacious and dynamic maintenance strategy is clearly a major contributor to the reduction of risk and therefore to a company's success, but there are a number of questions to be considered:

Is the inspection regime designed to identify flaws before they are able to affect performance?

Is an appropriate level of technical expertise available to set up and run the latest inspection instrumentation?

Is the inspection equipment well maintained, calibrated and ready for deployment?

How often is the inspection equipment required?

If the test and inspection equipment is not in frequent use, it often makes sense to rent specific instruments as and when they are required. Rented instruments are also employed when specific technology is required or when an urgent replacement to an in-house instrument is necessary. However, there are numerous other advantages to be gained from instrument hire.

The financial advantages of renting are well known; equipment purchase can involve a significant capital cost, particularly for the most advanced inspection instruments, so renting provides an opportunity to only incur operational costs when the technology is required. However, a major advantage of renting is that it provides continual access to the latest equipment. In contrast, instrument purchase locks the technology at that moment in time and precludes access to subsequent developments. Ashtead Technology therefore works closely with leading manufacturers to ensure that its fleet of rental instruments offers the latest, most advanced technology. Often this new equipment is easier to use, faster, with improved reporting and a higher probability of flaw detection. Similarly, the breadth of Ashtead's rental fleet means that customers can select the instrument that is best for their specific job. Rented instruments are delivered at exactly the time and location at which they are required, tested, calibrated and ready for work, so there are no issues with instrument maintenance and storage.

Clearly there are myriad advantages to renting over purchasing specialist equipment, but perhaps the most important is the transferal of responsibility for the product's condition. Renting equipment from a specialist supplier means that not only are instruments cared for by a team of qualified and skilled engineers that have been trained on these specific instruments, but also that expert technical support, advice and guidance are provided. Instruments are constantly evolving so their maintenance is often best provided by those with specialist training and experience.

Typical test and inspection equipment includes non-destructive testing instruments, visual inspection kit, including videoprobes, borescopes and robotic crawler cameras, and environmental monitoring equipment, such as dust, vapour and toxic gas detectors, and water quality monitors.

In summary, a clear inspection and maintenance strategy should be designed to avoid downtime and ensure the smooth operation of a plant, whilst minimising costs and utilising the latest technology to ensure that problems are identified before they are able to affect production. Ashtead Technology's business is founded on the belief that instrument rental provides an opportunity to achieve this.

www.ashtead-technology.com