Winners!
31/05/2011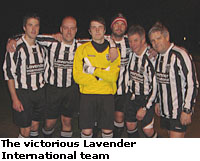 The Lavender International 5-a-side team, organised by Level 3 Services Consultant Paul Jones, stormed a local Comic Relief tournament recently and won the trophy at their first attempt.

The Kendray Sports Centre Comic Relief 5-a-side competition was open to teams from the Barnsley area and, with eight companies taking part, two leagues of four were set up, with each team playing each other twice.

The Lavender team of six – Peter Oliver (goal), Paul Lavender, Paul Jones, Steve Hewling, Steve Dodsley and Phil Hall – showed great skill and teamwork in coming top of the league, with five wins and one draw; this meant a semi-final place.

Whilst the league matches had been played in a great spirit, sadly our opponents in the semi-final seemed to have lost sight of this and would have been more at home on the Jurassic Park film set than on a 5-a-side football pitch.

We were losing one-nil with three minutes to go when their communication skills finally gave up the ghost. With the referee giving a foul to us, which they hotly disputed (mild understatement), strange grunts and plenty of expletives led them to lose concentration (a word used in its widest sense) and we equalised.

With only seconds to go, we left them flat-footed and scored the winning goal – good triumphed over the prehistoric period and we were in the final.

In the final, a superb team effort, with all six players contributing, enabled us to move into a 4-2 lead and, despite a last minute goal from the opposition, we emerged winners and the trophy was held aloft by the victorious Lavender International team.