GPMS and Bell announce exclusive distribution agreement
17/05/2019
Green Power Monitoring Systems (GPMS) has entered into an exclusive distribution agreement with Bell for GPMS's Foresight MX predictive health monitoring system on Bell 407 helicopter models.

The agreement allows Bell to leverage what is said to be the industry's first true predictive health management system for helicopters and rotating industrial equipment to enhance safety and reduce operating costs and unscheduled maintenance events for helicopter operators.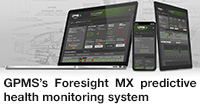 Distributed as the Bell 407 HUMS and available exclusively through Aeronautical Accessories, a Bell brand, the GPMS solution provides innovative signal filtering technology and prognostic algorithms, which enhance reporting accuracy. The cloud-based interface provides intuitive, actionable information that enables immediate return on investment (ROI) by reducing operating cost and unscheduled downtime.

"We greatly appreciate the confidence Bell has in the GPMS Foresight MX HUMS technology," said Dr Eric Bechhoefer, GPMS Founder and CEO. "The partnership between Bell and GPMS reflects a deeper commitment to drive the industry into the next phase of innovation."

The Bell 407 HUMS received STC certification from the FAA in 2018. The modernised health and usage monitoring system (HUMS) weighs less than 9 lb, including all hardware, cable and mounting components. It is Part 135 compliant for air medical use and offers a full scope of functionality, including mechanical diagnostics and prognostics, engine performance monitoring, exceedance monitoring, flight regime recognition, automated data acquisition and optimised automated solutions for rotor, track and balance. The 407 HUMS provides automatic alerts through email and SMS and an intuitive, simple user interface accessible through a standard web browser on a laptop, desktop, tablet or mobile phone.