New CEO for BINDT
24/10/2011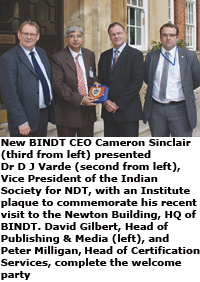 BINDT is pleased to announce that Cameron Sinclair has joined the staff as CEO Designate, in order to succeed Matt Gallagher who is retiring after almost 20 years in the post of CEO at the end of this year.

Cameron has worked with BP, Rolls-Royce, TWI and, most recently, Zurich Engineering in a career that has spanned over 25 years, during which he has held various NDT-specific and general inspection-related roles. This has involved him in research and development, the practical application of NDT and related tests, standards development, management and leadership.

He has a BSc in Engineering and is a member of BINDT and a Chartered Engineer (CEng). He has also held PCN Level 2 and Level 3 certification in ultrasonic testing of welds.

At the time of writing, Cameron was mid-way through an induction programme and commented: "I am delighted with this appointment and I am very much looking forward to working closely with the directors, staff and other stakeholders to continue the excellent work done by the Institute. There is a great deal to learn but I am enjoying the experience.

"I think the three most important things that the Institute helps to bring about in our technical field are leadership, engagement and competency. In a competitive international marketplace, the combination of these factors leads to growth in the market for products and services and greater reliability of the plant and equipment that most people take for granted but on which all of us depend.

"The Institute has a committed and highly professional staff and an exciting future. I can see many ways in which BINDT can develop and I will endeavour to keep Members posted on these developments as they materialise."

The role of CEO, which is also termed 'Secretary' in the context of organisations such as BINDT, is a broad one. The CEO has the management responsibilities associated with the administration of a small but complex company: human resources, finances, risks, statutory reporting, governance committee administration, accreditation etc. The CEO must also work closely with the Institute's non-executive volunteer democratically-elected directors (the Council) on matters pertaining to vision, strategy, planning, policy-formation and constitutional matters.

The principal role of BINDT is very clearly expressed in its Articles of Association: to promote the advancement of the science and practice of non-destructive testing, condition monitoring, diagnostic engineering and all other associated materials and quality testing disciplines. This is a relatively wide remit made even wider by another of its charitable objectives, which is to promote the science and practice of engineering as a whole.

On this, Cameron says: "Having charitable objectives as our focus, and being only loosely 'restricted' by these objectives, gives the Institute enormous scope to help the engineering sector, nationally and internationally, by facilitating the development of new, better products and services and by facilitating the provision of greater assurances to the benefit of the economy and society as a whole."

One of Cameron's recent assignments was to welcome Dr D J Varde, Vice President of the Indian Society for Non-Destructive Testing, to the Institute Headquarters in Northampton (pictured). Constructive and fruitful discussions took place in areas of mutual interest, including publications and certification.