New structure for CSWIP certification in plant integrity management
25/10/2011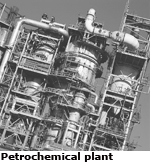 In this competitive age, the resources of successful plant operators can be severely stretched when faced with unforeseen problems or when planning for appropriate long-term asset management. The key to the safe and reliable operation of process plant is to identify the most cost-effective practical solutions, using state-of-the-art assessment tools and techniques.

Recognising the need to ensure that engineers involved in asset integrity management are suitably qualified to deliver optimised plant inspection and assessment, TWI is offering an internationally recognised CSWIP plant inspector certification scheme at three competency levels (Levels 1, 2 and 3).

TWI has responded to industry's need for plant inspection personnel to gain certification in plant integrity management by offering the plant inspection training scheme at three career levels, in a modular format, giving prospective students the opportunity to follow a clearly defined, structured career path.

These courses are aimed at plant engineers, non-destructive testing engineers, materials and corrosion engineers, and plant inspectors responsible for managing the safety and integrity of ageing process equipment, pipelines, boilers and storage tanks. The scheme is designed to suit plant inspectors working for commercial works (vendor), inspection organisations, equipment owners and operators, classification societies, insurance companies and safety regulators. The courses have three goals:

To ensure inspectors and engineers responsible for plant integrity have the essential tools and skills necessary to assess plant safety;

To recognise and certify plant inspector competence; and

To provide a structured path for continuing professional development of plant integrity practitioners through formal training/certification.
The following gives an overview of the modular training programme:

Plant Inspector – Level 1
Module 1:
Part A – Rules/regulations and duties of the plant inspector
Part B – Inspection methods
Students unable to meet the knowledge/experience requirements for direct entry onto the Level 1 course will be able to acquire this knowledge by taking supplementary training modules.

Plant Inspection – Level 2
The new Plant Inspection Level 2 format is predominantly based around asset integrity management skills, focusing on inspection and maintenance planning, integrity assessment and repair based on API and ASME standards and best practice.
Module 2 – Damage mechanism assessment for RBI and FFS, based on API RP 571
Module 3 – RBI based on API RP 580, 581 and ASME
Module 4 – FFS assessment based on API 579-1 and ASME FFS-1 2007
Module 5 – Weld repair of pressure equipment and piping
On successful completion of the Level 2 training and examinations, CSWIP Level 2 certification is awarded. Candidates with sufficient experience and qualifications will be able to progress by gaining Plant Inspection Level 3 or, if required to further their knowledge, by taking specialised endorsement modules.

Plant Inspection – Level 3
Module 6 – Pressure vessel inspection based on the requirements of API 510

Endorsements
Module 7 – Piping inspector – API 570
Module 8 – Aboveground tank inspector – API 653

The latest CSWIP Plant Inspector modular Level 2 training programme was officially launched in Abington, UK, on 12 September.

If you require additional information, contact the Plant Inspection Programme Manager: keith.malone@twi.co.uk

www.twi.co.uk