New code of ethics for the Service Inspection Group
14/10/2016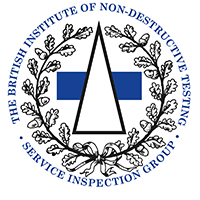 A new code of ethics, along with the application criteria for the Service Inspection Group (SIG), has been produced and approved by the Trade and Industry Executive Committee of the British Institute of Non-Destructive Testing (BINDT), in order to encourage more involvement from members in support of the NDT industry and its practitioners.

The SIG was formed over 20 years ago by a small number of Corporate Members of the Institute who wanted to demonstrate a commitment to providing a professional service, based on an ethical approach to a very competitive environment.

Membership has increased steadily to over 30 members in 2015 and the group has become a respected influence in the inspection and testing community of the NDT industry, as well as in the supervision of the membership, certification, policy and planning activities of the Institute. SIG members have provided guidance and assistance to the PCN Scheme and maintain representation on, or contact with, external bodies such as BSI, ONR, HSE and SAFED.

Chris Simmonds, Managing Director, Ultramag Inspection Services, said: "As current Chair of the SIG I feel it is important that SIG members maintain a high level of professionalism and integrity, support the practitioner and their education and promote BINDT and its aims within the industry. Over the past several years it can be seen that the SIG is valued by many key authorities and external bodies and can play an important role in the inspection industry."

To announce the relaunch of the SIG structure, an annual general meeting was held alongside BINDT's 55th Annual Conference on NDT, on Tuesday 13 September at the East Midlands Conference Centre and Orchard Hotel in Nottingham. The SIG, which is a key component of the Trade and Industry Executive Committee, has developed the following aims:

Arrange presentations from external bodies to help SIG members keep ahead of, or be involved in, changes to legislation or regulation;

Work with BINDT's Practitioner Committee to provide continuing professional development opportunities to practitioners, such as the Session E presentations that took place at Materials Testing 2015;

Support the Institute in the promotion of its apprenticeship scheme and sponsoring Practitioner and Apprentice of the Year awards; and

Promote the group amongst potential users of NDT and other external bodies.

Mark Freeman, Commercial Officer (NDT), RWE Generation UK plc, said: "As a user of service inspection companies, it is important to my organisation that the standard available to us is high. Using members of the SIG provides us with a level of confidence that companies are striving to be the very best that they can be. Over the last year, I have been working with Chris Simmonds to define a membership standard that we feel provides an excellent benchmark for current members and an aspirational target for those wishing to join.

"This year's AGM set the scene for SIG's vision of its future role in industry and had a diverse range of speakers that we hope gave value to the members who took the time out of a busy conference schedule to attend. We are actively seeking people from within the SIG membership to join us on an informal committee to assist with the delivery of the SIG's aims, such as organising speakers for future AGMs."

To obtain membership, Corporate Members of the Institute are required to provide evidence of a quality system that meets the requirements of either UKAS or BS EN ISO 9001:2008/2015, to uphold a code of ethics and to demonstrate commitment to the future advancement of NDT through areas such as the regular attendance at BINDT committee meetings, championing and adopting new technologies or employing apprentices. Members are audited upon application and every three years thereafter to maintain membership, either in person or by submission of evidence.

For more information, contact Cindy Bailey, Membership Services Department, The British Institute of Non-Destructive Testing, Midsummer House, Riverside Way, Bedford Road, Northampton NN1 5NX, United Kingdom. Telephone: +44 (0)1604 438300; Fax: +44 (0)1604 438301; Email: membership@bindt.org; Website: www.bindt.org