New trainee manufacturing technician joins ETher NDE
18/09/2014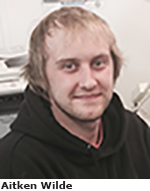 ETher NDE has added another new member to its team, this time in its manufact
u
r
ing depar
tment.

Joining the team is Aitken Wilde as a Trainee Manufacturing Technician, who has taken on every task with enthusiasm and determination, especially in mastering the more complicated probe types. With a good attitude and positive energy, Aitken is already a clear asset to the company.

The speed that Aitken has grasped his work is admirable and he has shown a rea
l i
n
terest in NDT in general, which is encouraging for both his personal development and contribution t
ow
ards ETher NDE in the future.

In fact, Aitken will be attending an NDT appreciation course at a training school later this month, along with another colleague. The course is designed to give participants a basic unde
rstanding of all the NDT methods and will no doubt prove invaluable as Aitken's career within NDT develops.

John Hansen, MD of ETher NDE, said: "Customer demand for ETher NDE products has grown strongly and in order to continue to provide our customers with the high levels of service they rightfully expect we are pleased to welcome Aitken Wilde to our manufacturing team as Trainee Manufacturing Technician. Aitken has settled in very quickly and is now a fully productive member of our manufacturing team. ETher NDE will continue to invest in young people to ensure it maintains its industry-leading levels of customer service."

www.ethernde.com