Special treats in store at European Conference in Prague
23/09/2014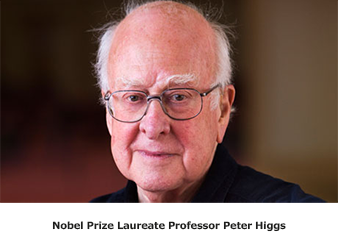 On 8 October 2013, it was announced that Peter Higgs and François Englert would share the 2013 Nobel Prize in Physics "for the theoretical discovery of a mechanism that contributes to our understanding of the origin of mass of subatomic particles, and which recently was confirmed through the discovery of the predicted fundamental particle, by the ATLAS and CMS experiments at CERN's Large Hadron Collider".
Professor Higgs will be presenting his lecture, entitled: 'How my imagination anticipated the CERN discovery', as the Lectio Magistralis special lecture in the Academia NDT International session at the ECNDT conference programme on Wednesday 8 October, one year to the day since the Nobel Prize announcement. The lecture will be free to registered delegates.
The ECNDT is held under the auspices of the European Federation for NDT (EFNDT) and EFNDT President Dr Matthias Purschke says that the European Conference always highlights the importance of NDT within our daily lives in today's high-tech societies. "It is the event for exchanging experiences with colleagues on a European level," he suggests, "to get in touch with the latest results in science and to learn more about new equipment from the NDT equipment manufacturers."
The conference, along with its adjoining large exhibition of NDT techniques and services, will provide a good opportunity to present the latest research results and the newest NDT techniques, along with current applications.
Another feature of this ECNDT will be an innovative web app developed by ndt.net. The app can be used through the Internet – The Cloud – from all smartphones, tablets, laptops, etc. In addition, the conference organiser will be disseminating the app on DVD/USB to the participants for offline reading. The app offers convenient browsing of the agenda, exhibition, full proceedings, search capabilities and much more.
Conference Chair Professor Pavel Mazal said: "We believe that the 11th European Conference on NDT will provide a major forum for the meeting of NDT specialists, researchers, students and all common users of NDT techniques and services from around the world. We hope that all those connected with any aspect of NDT, NDE and related technologies will participate in this outstanding event."
The choice of the Czech Republic as host is an acknowledgement of the country's long association with NDT and the international activities of CNDT in the field of NDT/NDE method development, standardisation, certification and education. The conference venue, the Prague Congress Centre, is one of Europe's largest and best-equipped centres.
For further information, contact: Organising Secretariat, GUARANT International spol s r.o., Na Pankraci 17, CZ 140 21 Prague 4, Czech Republic. Tel: +420 284 001 444; Fax: +420 284 001 448; Email: ecndt2014@guarant.cz; Web: www.ecndt2014.com