Patrick Boulton appointed Senior Technical and Certification Engineer at BINDT
12/09/2023
The British Institute of Non-Destructive Testing (BINDT) has announced that Patrick Boulton has been promoted to Senior Technical and Certification Engineer in the Technical & Industrial Department at the Institute. Patrick takes over from John Moody, who retired in July 2023.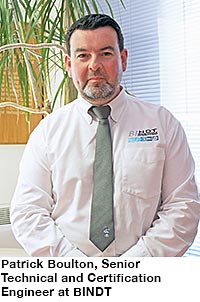 Patrick has been with BINDT since 2014 in the role of Technical and Certification Engineer. In this role, Patrick has successfully provided in-depth and broad technical support to BINDT staff, trustees, the Institute's committees and other stakeholders, in addition to individual customer support for PCN certificate holders and external online technical support for technical matters as the need arises.
Patrick's engineering career commenced with British Airways (BA) as an Aeronautical Engineering Apprentice in September 1990. He was awarded his deeds apprenticeship, a BTEC in aeronautical engineering, and invited to take up a role within BA's Boeing 747 heavy maintenance programme as an airframe-engine engineer in September 1993.
He joined the British Airways Non-Destructive Testing Department in 1996 on a journey towards achieving PCN Level 3, and PCN Level 2 certification in all of the five main NDT methods. He was awarded a certificate in management studies in association with Oxford Brookes University, which provided the tools necessary to manage a small team of NDT engineers responsible for scheduled and ad hoc NDT inspections on the airline's fleet, including Concorde. He was promoted into the airline's Technical Management Group (TMG) structure before securing the position of Technical and Certification Engineer with BINDT, where one of his remaining aerospace duties included voting member status on the UK National Aerospace NDT (NANDT) Board, a position which he will retain in his new capacity.
Patrick will be taking over the baton from John Moody, who retired after ten years of loyal service to BINDT and the industry as a whole. John's deep understanding and experience of all NDT methods, training and certification matters, apprenticeships, engineering registration and higher education programmes has contributed to BINDT's and PCN's excellent global reputation in the industry. John's willingness to share his knowledge and experience and to take the time to help others are rare qualities that have been greatly appreciated. Many tributes were paid to John at the July meeting of the BINDT Council, at which he announced that he would be continuing to assist BINDT in certain areas on an occasional basis.
Patrick said: "I would like to thank BINDT, the NDT community and John Moody personally for the opportunity I have been presented with. Because of John's stewardship, knowledge and understanding of NDT processes and organisations, his good nature and his ability to see potential in others, I believe I have been equipped with sound foundations on which to build."