West of England Branch Meeting: 17 October 2012
Developments in thermographic NDT

Dear Members,
Our forthcoming Branch meeting (the first of the season) will take place in the Training Room, Rolls-Royce plc, Gypsy Patch Lane, Filton, Bristol BS34 6QA on Wednesday 17 October 2012, commencing at 16.30 (4.30 pm). The meeting will start with a presentation by Professor Daryl Almond from the University of Bath. The presentation will be followed by a West of England Branch Committee meeting (non-committee members are welcome to attend). Professor Daryl Almond's presentation will be:
Developments in thermographic NDT
Daryl Almond
RCNDE
Department of Mechanical Engineering
University of Bath
The well-established thermographic NDT technique of flash heating a component and observing the thermal response with an infrared camera will be discussed and examples of industrial applications will be given. There will be a demonstration of results that can be readily acheived by the technique using an inexpensive IR camera and simple heat sources. Three recent NDE research programmes have shown that thermography provides an attractive new means of imaging cracks in metal components that is competitive with DPI and MPI. Three different heating models are employed: ultrasonic heating, laser heating and induction heating. The results of this work will be presented and the capabilities of the techniques will be compared.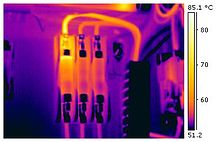 Please make a big effort to attend and support your Branch.
Any queries, please contact:
Roger Lyon
Programme Secretary
West of England Branch
BINDT
07780498060