Aerospace Workshop 2018
10 April 2018, BAWA Centre, Bristol, UK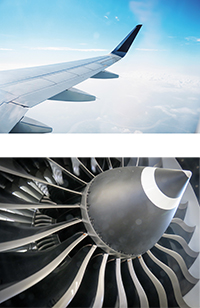 This workshop, organised by the Aerospace Committee of BINDT, will present current research and developments in NDT for additive manufactured (AM) parts that is being undertaken to support their introduction and use in the aerospace sector.

The aim of the workshop is to inform delegates of some of the NDT activities on-going in this area, from in-situ process monitoring through to as-built components, and provide an insight into the direction of future research.

This workshop will also include a panel session providing the opportunity to discuss and debate some of the key research challenges that AM parts pose to NDT and what success in this area may look like for the aerospace NDT sector.

The attendance fee is £65.00 + VAT.
BINDT Members*: £10.00 discount.
NDT Level 2s*: £15.00 discount.
*Only one discount will apply.

This fee covers attendance at the workshop, lunch, other refreshments and a tour at Aerospace Bristol.

The visit to the Aerospace Bristol museum from 15.30-17.00 includes an exclusive highlights tour, which will last for approximately one hour and includes '

priority boarding

' onto Concorde.


Click here to download a copy of the programme.




Click here to download the report
from the Additive Manufacturing
for Aerospace event.

Programme

Time
Activity

Speaker/Chair

08.30-09.00
Registration

09.00-09.10
Welcome and summary of proceedings

D Hallam, DSTL

In-process inspection of additive manufactured components

09.10-09.35
Spatially resolved acoustic spectroscopy (SRAS) and NDE for additively manufactured (AM) components

Dr R Smith, University of Nottingham

09.35-10.00
In-process LUT inspection of AM parts

Dr H Rosli, MTC

10.00-10.25

NDT of AM components

Professor I Cooper, TWI

10.25-10.55

Refreshment break

Inspection of as-built additive manufactured components

10.55-11.20

AM in the military air sector

K Pickup, BAE Systems

11.20-11.45

X-ray CT of AM components

Dr M Mavrogordato, µVis Centre, Southampton University
11.45-12.10

X-ray CT inspection of Ti6A14V parts – A review of current progress at GKN AM, Bristol
L Squillaci, GKN AM
12.10-13.10

Lunch

13.10-13.35

AM inspection/NDT: Is XCT the solution?

Dr N Brierley, MTC

13.35-14.00

NDE of additive layer manufacturing for aero-engines

Dr T Barden, Rolls-Royce

14.00-14.20
Refreshment break

14.20-15.15

Panel session

Dr R Smith, University of Nottingham, Dr N Brierley, MTC and L Squillaci, GKN AM

15.15-15.30

Leave for visit to Aerospace Bristol museum

15.30-17.00

Aerospace Bristol museum visit and tour

17.00
Depart


For further information contact:
Conferences and Events Department, The British Institute of Non-Destructive Testing,
Midsummer House, Riverside Way, Bedford Road, Northampton NN1 5NX, UK.
Tel: +44 (0)1604 438300; Fax: +44 (0)1604 438301; Email: conf@bindt.org