Multicopters Workshop 2018
9 July 2018 Hilton Manchester Deansgate, Manchester M3 4LQ, UK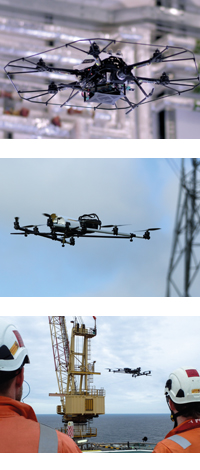 This workshop will present users with information about the current progress of development for multicopters, commonly known as drones, for carrying out aerial inspections of industrial and other assets. Multicopters that can carry high-resolution cameras and thermal imaging or light detection and ranging (LIDAR) equipment are being used increasingly to conduct inspections of locations that are difficult to access or hostile to human inspectors.

The aim of the workshop is to inform delegates of the legal, safety and training requirements, supported by case studies of a variety of applications including oil & gas, wind turbines, rail, power generation and distribution. There will also be a panel discussion providing the opportunity to discuss and debate some of the key challenges.

Registration: £80 + VAT
Discount: BINDT Members - £10.00
The fee covers attendance at the one-day workshop from 09h30 to 16h45, including tea/coffee breaks and lunch.

Venue information:
The Hilton Manchester Deansgate is located in the heart of the city of Manchester within the Beetham Tower, the 11th tallest building in the UK.

The hotel is within walking distance of a fantastic selection of shops, bars and restaurants. Also close by are attractions such as Castlefield district, People's History Museum and the world famous football grounds, Old Trafford and the Etihad Stadium.


Click here to download the provisional programme.

Programme

Time
Activity

Speaker/Chair

10.00-10.30
Registration

10.30-10.40
Welcome and introduction – All you need to know about inspecting with drones

Dr C Brett,
Uniper Technologies Ltd

10.40-11.05
Legal, safety and data protection requirements when flying drones

R Amos,
Panodrone Ltd

11.05-11.30
ECITB training standards for industrial drone inspections

A Wookey,
ECITB

11.30-12.00

Refreshment break with multicopter exhibits from Cyberhawk, Inspectahire and Strathclyde

12.00-12.25

Showcase for use of multicopters for inspection – Offshore and onshore wind

H Herrmann and J Pagan,
EDF Energy R&D UK Centre

12.25-12.50

How drones are being used for inspection in industrial environments

P Buchan,
Cyberhawk
12.50-13.30

Lunch and multicopter exhibits from Cyberhawk, Inspectahire and Strathclyde

13.30-13.55

How to see the bird's eye view

M Murray,
Inspectahire Instrument Company Ltd

13.55-14.20

Validation of UAV inspection quality for the offshore wind industry

T Fong,
Offshore Renewable Energy (ORE) Catapult

14.20-14.45

Autonomous drones for next-generation visual inspection

Professor G Pierce,
Strathclyde University

14.45-15.15
Refreshment break with multicopter exhibits from Cyberhawk, Inspectahire and Strathclyde

15.15-16.00

Panel discussion



16.00
Close


For further information contact:
Conferences and Events Department, The British Institute of Non-Destructive Testing,
Midsummer House, Riverside Way, Bedford Road, Northampton NN1 5NX, UK.
Tel: +44 (0)1604 438300; Fax: +44 (0)1604 438301; Email: conf@bindt.org