National recognition for development of NDT apprenticeships
01/04/2019
The development and promotion of non-destructive testing (NDT) apprenticeships has won national recognition at the prestigious Further Education (FE) Week and Association of Employment and Learning Providers (AELP) Annual Apprenticeship Conference (AAC) Apprenticeship Awards 2019.
Skills Training UK has been shortlisted in the 'Outstanding Contribution to the Development of Apprenticeships (Provider)' category, for its work with BINDT, trailblazers and specialist NDT training schools to develop new apprenticeship programmes for the industry and grow career interest within the sector.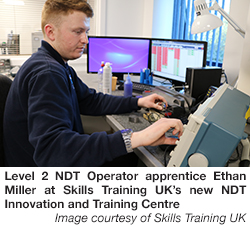 The delivery model developed by Skills Training UK has linked the process between employer, specialist training provider and apprentice, making it easier and more cost-effective for employers to upskill and recruit for NDT. During 2017/2018, the company developed and launched apprenticeship training programmes for the Level 2 NDT Operator, Level 3 Engineering Technician and also the Level 6 NDT Engineer Degree apprenticeships in partnership with the University of Northampton.

Employers in sectors including engineering, aerospace and nuclear have welcomed the new apprenticeships and, in the past 18 months, Skills Training UK has become one of the largest NDT apprenticeship providers in the UK, enrolling 105 NDT apprentices at 50 businesses. 61% are aged 16-24.

Stephen Crawley, Chief Operating Officer, Skills Training UK, said: "We are delighted to be recognised for our hard work in developing our innovative apprenticeship programmes, which are in high demand and are proving to have a positive impact on the skills growth within the materials testing sector.

"This recognition does not just reflect our hard work, but the hard work across the BINDT community and our specialist NDT training school partners, who have proven that by working together we can help to address some of the challenges faced by our industry, tackling the skills gap and an ageing workforce."

Skills Training UK has recently opened an NDT Innovation and Training Centre in partnership with GB Inspection Systems Ltd in the West Midlands to provide new opportunities for young people to progress into materials testing apprenticeships and to promote social mobility.

Roger Lyon, Project Manager for Apprenticeships at BINDT, said: "In terms of NDT apprenticeships, Skills Training started with a blank sheet of paper and within a very short space of time has become extremely successful and has surpassed the expectations of the professional body and the employer group.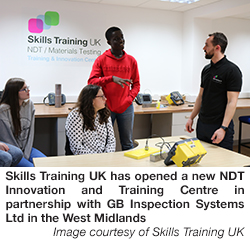 "As one of the lead NDT apprenticeship providers, strengthened by the recruitment of experienced NDT staff, Skills Training UK has been very proactive and has successfully partnered with several specialist NDT training schools in the past couple of years. I am very pleased to hear that they have been recognised for this award, which shines a light on everybody who has supported the apprenticeship programme development since the standards were launched – keep up the good work."

In addition to the FE Week and AELP Apprenticeship Awards 2019, Skills Training UK has been shortlisted for 'Training Partner of the Year' at the Semta Skills Awards and for 'Training Provider of the Year' in the Times Educational Supplement FE Awards.

Meanwhile, all employers are invited to attend an industry NDT apprenticeships event in the West Midlands. Attendees will find out more about NDT apprenticeship programmes, hear from employers that have benefited and may also qualify for continuing professional development (CPD) points. The event, organised by Skills Training UK and the NDT training schools, takes place at the Advanced Manufacturing Training Centre (AMTC) in Coventry on Wednesday 15 May 2019. To book a place, email: samcunningham@skillstraininguk.com

www.skillstraininguk.com/apprenticeships