TWI launches new course on appreciation of advanced digital radiography
08/12/2017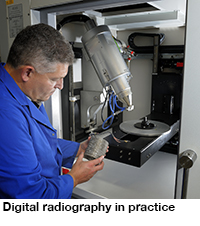 In response to the increasing use of digital radiography to assess the structural integrity of engineered assets, TWI has launched a new course: An Appreciation of Advanced Radiography.

Digital radiography is an advanced technology based on digital detector systems in which the X-ray image is displayed directly on a computer screen. It removes the need to use traditional photographic film or intermediate scanning and there is no development of chemicals. Digital radiography is applied to non-destructive testing (NDT) in order to assist in the accurate location, characterisation and sizing of flaws that can be found in structural components, such as pipeline, pressure vessels and printed circuit boards.

The advantages of using digital radiography rather than traditional radiography techniques include shorter set-up times, automated inspection and faster generation of X-ray images.

Comprising a balance of theory and practical elements, TWI's new course has been designed to meet the needs of radiographic testing operators qualified to at least Level 1 CSWIP/PCN, who are engaged in radiographic testing and interpretation and would like to enhance their knowledge by incorporating digital radiography into their skill set. It is also ideal for personnel engaged in the supervision, control and interpretation of radiographic images who would like to expand their capabilities to include digital radiography.

The four-day course includes insights into:

Computerised radiography (CR), a process that uses photostimulable phosphor (PSP) imaging plates to capture latent radiographic images that can subsequently be digitised;

Digital radiography using digital flat-panel detector technology; and

Computed tomography (CT), a related evaluation technique outputting two-dimensional and three-dimensional cross-sectional images of an object from flat X-ray images, which provides an ideal examination tool when the primary goal is to locate and size planar and volumetric detail in three dimensions.

An Appreciation of Advanced Radiography courses take place at TWI's state-of-the-art engineering inspection and validation facility, TWI Technology Centre Wales in Port Talbot, and commenced on 27 November 2017. Book online by visiting TWI's training website or telephone: +44 (0)1223 899500 for more information.

www.twi-global.com