Caparo Testing Technologies proves ancient relics to be in original condition
06/03/2015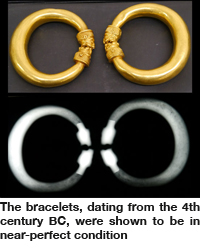 Caparo Testing Technologies (CTT) has had various requests to carry out many different and diverse tasks during its existence, but a recent enquiry from a London gallery is perhaps one of the more unusual.

Recently, the London-based Kallos Gallery requested that the business carry out X-ray/radiography inspection of a Corinthian bronze helmet of the 'Hermione' type, dating back to the late 6th to early 5th century BC, as well as a pair of gold lion-head bracelets, dating back to the 4th century BC. Visually, all of the items appeared to be in exceptionally good condition, but the client wanted to determine if any remedial works had been carried out since they were discovered. The helmet is probably one of the most recognisable emblems of Greek warfare and cultural identity, whilst the 8.8 cm-diameter bracelets are in the typical style of the finest Greek jewellery from the Archaic period onwards.

Caparo Testing Technologies was pleased to accept this challenge and the work was carried out at the test facility in Witney, Oxfordshire, whilst the client remained in attendance to witness the radiographic process and assess the results.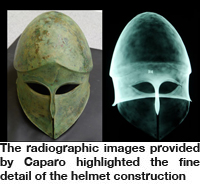 The radiographic images subsequently achieved were of great interest and significance to the Kallos gallery, as the fine detail of the helmet construction was highlighted and the bracelets were shown to be in near-perfect condition.

Steve Richardson, General Manager of Caparo Testing Technologies – Witney Branch, commented: "It was a real pleasure to undertake a job that was different from 'the norm' and we were very pleased to be able to achieve results that exceeded the client's expectations."

www.caparotesting.com