Thermographic Consultancy to fly across UK in 2015
24/03/2015
Thermographic Consultancy, a leading UK thermal imaging consultancy, will be at the BlueBox Partners Spring Roadshows this month. The appearances extend the company's busy 2015 schedule, which includes events with engineering college UTC Swindon.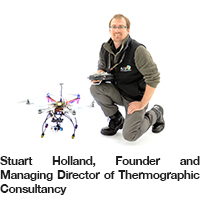 The BlueBox Partners Roadshows are one-day conferences supported by case studies. They cover topics such as reinstatement calculations for regular and unusual buildings, legal updates, sustainable refurbishment of a Victorian home, thermal imaging and report writing. Dates for the roadshows are as follows:

Tuesday 10 March 2015 – Holiday Inn Express, Swindon

Thursday 19 March 2015 – Holiday Inn Clifton Village Brighouse, West Yorkshire

Saturday 24 March 2015 – National Energy Centre, Milton Keynes.
Thermographic Consultancy provides surveys of electrical or mechanical installations for predictive maintenance regimes. The company also offers inspections to assess thermal efficiency and identify areas of energy loss.

At the events, Thermographic Consultancy Founder and Managing Director, Stuart Holland, will demonstrate a handheld thermal imaging camera system. He will also provide a short information seminar on the practical uses of thermal imaging within the building industry.

Speaking about his company's events programme for the year ahead, Stuart said: "Live events give us the chance to show what Thermographic Consultancy can do. We're excited to be working with BlueBox Partners and UTC Swindon in 2015 and look forward to meeting up with new and existing contacts in the coming months."

Thermographic Consultancy contributes to UTC Swindon's success by raising awareness of its courses and achievements. Stuart will support college representatives at open days throughout 2015. Dates for the open days include Saturday 18 April and Saturday 20 June 2015.

Stuart is a Level 3 thermal imaging specialist in electromechanical engineering. He works with other skilled thermographers to identify heat loss and monitor energy efficiency. Using the very best technology, it is claimed Stuart can analyse images and video footage faster and more accurately than any other thermal imaging provider.

www.thermographicconsultancy.com