Materials Testing 2015 attracts record numbers
23/09/2015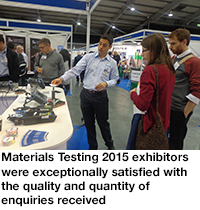 This year's Materials Testing Exhibition, organised by the British Institute of Non-Destructive Testing (BINDT) and held at the International Centre, Telford, from 8-10 September, presented record numbers of visitors with unique opportunities to view and assess the latest technologies, source new contacts, meet industry colleagues and keep up-to-date with the state-of-the-art innovations in NDT and condition monitoring. This year's event saw a 23% increase in visitor numbers over the last one in the series, which took place two years ago at the same venue.

More than 1000 visitors took advantage of the exhibition and appraised themselves of a vast range of the latest NDT equipment on display from over 75 exhibitors. Also featuring at this year's event were free tuition sessions, commercial presentations and practical demonstrations. These sessions proved to be extremely popular and were designed to appeal to all exhibition visitors, but especially practitioners: one presenting papers of a more commercial/practical nature and the other comprising tutorial-type sessions on the common NDT methods, all running in parallel throughout the three days.

Another highlight of the proceedings was the presence of the Bloodhound SSC (SuperSonic Car) Show Car throughout the event, as well as a presentation from Tony Parraman, Head of Sponsor Liaison, on the opening evening of the exhibition. This was an opportunity for people from the NDT sector to see and hear about this exciting project, which will be attempting to set a new land-speed record, and see how the success of the project depends to a large extent on the effective application of NDT and condition monitoring.

Materials Testing thus lived up to its billing as the premier forum for a concentration of materials testing innovation and excellence.

John Hansen, Chairman of the MT 2015 Organising Committee and Managing Director of ETher NDE, said: "This year's Materials Testing exhibition was the most ambitious ever organised by BINDT. With over 75 exhibitors, two parallel free informative sessions running on the exhibition floor and the Bloodhound Car, there was a lot to reward the visitor. So, it comes as no surprise that the visitor numbers were the highest for many years. As an exhibitor, we were exceptionally satisfied with the quality and quantity of the many enquiries we received. I look forward to starting the planning for Materials Testing 2017."

NDT 2015 – the annual British Conference on NDT – ran alongside the exhibition and also attracted excellent numbers. The combined event presented visitors with a unique opportunity to see, hear and learn about innovations not only from the UK but also from around the world.