HOIS publishes guidance for drone (UAV)-based external remote visual inspection in the oil & gas industry
03/09/2018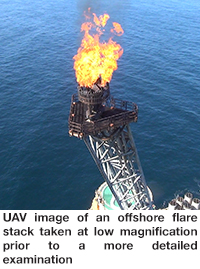 Unmanned aerial vehicles (UAVs) or unmanned aerial systems (UASs), often known as drones, are now frequently being used with on-board cameras to carry out external remote visual inspection (RVI) of oil and gas facilities. The advantages of this approach, compared to a visual assessment by an inspector, include the ability to obtain images of inaccessible areas, for example flare tips in operation, the ability to capture images digitally and record them with positional information, storage of the image to allow comparison with subsequent surveys and ease of transmission of the images around the world via the internet for assessment in a remote location.

HOIS identified that there were no technical standards or guidance available regarding the minimum acceptable UAV image quality, nor was optimum imaging equipment available to deploy on these devices. As a result, wide variations in image quality arose from different UAV surveys with no criteria to assess whether or not the images were fit for purpose.

To address this gap, HOIS first organised trials, performed by its members using airborne UAVs, to inform the development of a document that gives guidance on image quality and covers usage of UAVs for external RVI within the oil & gas industry. The aim of the document is to ensure that the minimum image quality achieved by UAVs is adequate for the intended purpose of making engineering assessments of the integrity status of the parts inspected. These images can then be used to assess fitness for continued operation.

In the HOIS document, detailed guidance is given with respect to three UAV RVI applications of highest priority to its members:

Generation of UAV images having a resolution equivalent to close (or direct) visual inspection (CVI/DVI);

Coating assessment to ISO 4628; and

Flare tip/stack inspection.

The detailed guidance on image quality includes recommendations on spatial resolution for each of the above applications. General guidance on many aspects of UAV-based RVI is also given, including on topics such as viewing direction, ambient light levels, camera types and settings. File formats and post-processing software for both still images and videos are also 
considered.

The guidance document is now being made publicly available (rather than remaining confidential to HOIS members) with the aim of achieving a more consistent level of the image quality arising from the use of UAVs for external RVI of oil and gas facilities. It can be downloaded from www.hoispublications.com