Yokogawa releases OpreX™ Operational Risk Management
11/09/2018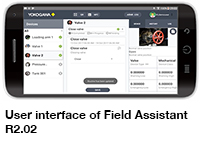 Yokogawa Electric Corporation has announced the development and release of OpreX™ Operational Risk Management: Field Assistant R2.02, an Android™ application that is intended for use during field inspections of industrial facilities.

At many industrial plants, field inspections are performed periodically by staff who patrol along defined routes, checking field instruments and equipment at specific points along the way, in order to keep the facilities and equipment safe and in good working order. While the common practice has been for the results of these inspections to be manually recorded on a printed checklist that is then submitted for review, many of Yokogawa's customers have expressed the wish to be able to directly enter the check results onto a mobile device such as a tablet. Customers have also indicated that it is a challenge to select and take with them on these patrols all of the documents that they require for quick reference, such as inspection histories and equipment manuals.

With Field Assistant R2.02 installed on a generic Android tablet, personnel can enjoy in-the-field access to checklists, manuals and many other kinds of document, thus increasing the quality and efficiency of the work performed during routine patrols of manufacturing sites.

In addition to being able to consult and fill out these documents as required, they will have the ability to take pictures and record videos in order to report their inspection results.

Field Assistant R2.02 can run on tablets that support Google's Android mobile operating system. Versions running under other operating systems are also planned to be released.

Via the Field Assistant R2.02 user interface, users can access both digital checklists and related documents such as operating manuals, specifications documents and installation manuals.

The use of digital checklists eliminates the cumbersome process of making handwritten entries and reduces the chance of data entry errors; they are also easier to update. Pictures and videos can be taken easily and inserted into a checklist.

By attaching QR code labels or near-field communication (NFC) tags to each piece of equipment and associating them with related documents in advance, users need only scan the code label or tag with the tablet to view all of the associated documents while performing a patrol. Along with this, auxiliary functions that issue alerts for abnormal readings are provided.

The checklists and related documents can also be downloaded from a server and saved on the tablet, so Field Assistant R2.02 can be easily used in places in which there is no internet access.

Data accessed using Field Assistant R2.02 can be linked with the data that is recorded and managed using the OpreX Operational Risk Management: Operations Management software package. The operations management software assists plant operations and management personnel by facilitating the sharing of information on unusual events, work progress and operation workflows, for example. By digitalising and standardising how this data is handled, this software helps plant personnel to carry out their work correctly, safely and efficiently, thereby enhancing corporate value.

The data linkage between Field Assistant R2.02 and Operations Management allows manufacturing and maintenance personnel to better coordinate their activities. This improves the efficiency of operations management by managing the transfer of work instructions from operators to site personnel. It also helps with producing handover reports and work reports containing pictures
or videos taken on site.