Cabinet monitoring solutions to cut inspection time
11/09/2019
FLIR has introduced a combination of measures to cut the inspection time required for energised electrical equipment. The AX8 thermal sensor allows continuous monitoring of critical electrical infrastructure to be performed and the FLIR IR Windows provide an easy and affordable option that reduces the cost and time associated with thermal inspection and adds a safety barrier to protect the thermographer from arc flash accidents.

The FLIR AX8 is a temperature sensor with thermal imaging capabilities, combining thermal and visual cameras into a compact, affordable package. The sensor provides continuous temperature monitoring and automated alarming when preset temperature thresholds are exceeded. It is designed to guard against unplanned outages, service interruptions and equipment failure.

Measuring only 54 × 25 × 95 mm, the AX8 is easy to install in tight spaces and consumes little power. It allows the user to view thermal images, visible light images or the two combined, thanks to FLIR's proprietary MSX® multi-spectral imaging capability. MSX provides image detail from the visible camera that is embedded onto the thermal image, giving exceptional image clarity and the ability to read labels. Overall, it helps to put the problem in context for quicker diagnosis.

Enabled by FLIR's ground-breaking Lepton® thermal imaging core, the AX8 has 4800 active temperature points per image, provides streaming of temperature data over industry-standard interfaces (Ethernet/IP and Modbus TCP) for easy analysis, has a built-in web interface and includes a full suite of analysis functions.

The AX8 easily integrates into electrical installations or indeed any manufacturing environment. Its streaming thermal, visual and MSX video is output in standard MJPEG, MPEG and H.264 formats, adding multi-purpose image capabilities.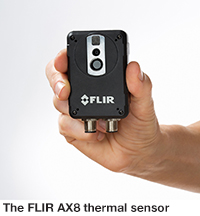 Inspection via IR Windows requires the involvement of fewer personnel and eliminates the need for cumbersome personal protective equipment (PPE). In short, IR Windows offer considerable potential for exposing faults before they become costly failures, saving costs in the process without compromising personnel safety.

Although primarily designed for use with the entire range of FLIR thermal imaging cameras, the FLIR IRW series of IR inspection windows can be used with any camera brand. Indeed, they bring important benefits to the market irrespective of the camera used, the most important being robust design and simple installation.

FLIR IR Windows feature a permanent hinged cover that flips open easily, so there is nothing to drop, mix up or lose. The range provides a choice between standard, anti-corrosion and anodised aluminium frames, or durable stainless steel if there are mixed metal concerns.

For more information on FLIR's cabinet monitoring solutions, download the brochure at: https://bit.ly/2YLXgsi