Latest Lynx lands safely following development tests
07/06/2010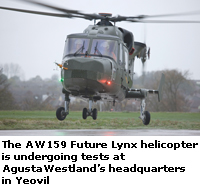 AgustaWestland has conducted a series of tests on the undercarriage of the future Lynx naval helicopter using HBM's data acquisition equipment to ensure superior operational landing performance. The Lynx – with a maximum take-off weight of 6000 kg – has a long pedigree as a twin-engine, multi-role aircraft used by the British Army and the Royal Navy to meet maritime combatant and land utility and reconnaissance requirements.

A series of 34 test conditions needed to be met to ensure that the undercarriage could meet and exceed landing forces on military ships such as frigates, where the combined forces of wind and waves usually make landing more demanding than on land. These tests had to be carried out on both the front undercarriage, which supports two wheels on the helicopter's centre line, and the rear undercarriage, which supports a single wheel, situated either side of the main fuselage.

Drop tests, onto both level and sloping surfaces, were carried out at AgustaWestland's UK headquarters in Yeovil, Somerset, using a purpose-built test-rig. The rig was fitted with 12 sensors to capture a variety of signals including gas pressure, oil pressure, ground reaction forces, strut closure, tyre deflection and total distance travelled.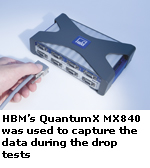 AgustaWestland used HBM's QuantumX MX840 to capture the data along with HBM's catman AP data acquisition and analysis software to provide an initial overview of the test data which was then exported and analysed separately. Matt Williams, a Senior Structural Test Engineer, told NDT News: "We selected the MX840 because we could plug anything into it quite easily and it has an excellent recording capacity both in terms of the recording span and the rate."

Each drop test involves some eight seconds of recording at 4800 Hz, although the actual drop lasts less than three seconds. There is then approximately an hour between each test for analysis and reconfiguration of the test-rig. Williams comments: "We use HBM's catman AP software to give a broad analytical overview after each test and then we export the data to Excel for more detailed analysis."

www.hbm.com