UK Thermography Authority: 'Going Forward'
06/06/2016
After a successful AGM held in December 2015, the UK Thermography Authority (UKTA) held a further meeting on 13 January 2016 at the British Institute of Non-Destructive Testing (BINDT) headquarters in Northampton, where various new initiatives were discussed and agreed upon.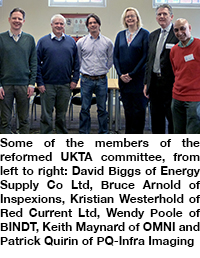 The UKTA is a special interest group representing all members of BINDT who are interested in thermography. It acknowledges the growing interest in thermography among a wide range of people involved in non-destructive testing and condition monitoring in the UK and beyond.

First and foremost, a new committee of ten was elected, with Keith Maynard the newly-appointed Chair and Patrick Quirin the Vice Chair. Additionally approved was the rebranding of the UK Thermography Association. Keith Maynard said: "After much consideration, we have changed the name from Association to Authority. With this comes the task of reinforcing benefits to members, terms of reference, code of conduct and the scheme. As part of BINDT and within the Condition Monitoring Technical Committee (CMTC), the UKTA Committee will reinforce these links and leverage as much support as we can in order to promote our cause."

In response to the meetings already held and a survey of members that was completed in 2015, three key actions were established as high-priority:

Increasing awareness of the UKTA via seminars and networking

Promoting the competence and qualifications of thermographers

Improving and expanding the UKTA website.

All attendees were very positive and keen to participate in the revitalisation of the UKTA and in delivering strategies for improvement.

"As we start to address the wishes of the wider membership, I do encourage all to put forward any points of view. We propose to enhance the UKTA website with a members' portal and produce other UKTA publications that can be used alongside all of the BINDT events, as well as emerging in our own way," concluded Keith Maynard.

It was agreed that the UKTA Committee would meet three to four times a year and that all UKTA members would be eligible to join. Existing BINDT members who wish to join the UKTA should simply contact the BINDT Membership Department and ask to join the UKTA interest group. New members can choose to join this group at the time of applying.

The UKTA covers all applications of thermography and membership is encouraged from the following disciplines: electrical, mechanical, building, aerospace, marine engineering, medical and veterinary imaging, research, camera manufacturers, accessory manufacturers, academia, remote sensing and trainers.

For more information about the UKTA, visit www.ukta.org or contact the Committee Secretary, Wendy Poole, at: wendy.poole@bindt.org