High-speed inspection of broken biscuits
13/05/2014
Nutrition & Santé is a leading European maker of organic and health foods. Biscuits roll off its production lines in stacks of four or five units, which are then wrapped in packs and inserted into cardboard packaging at high speed.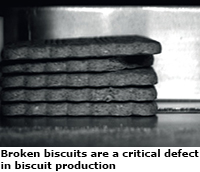 "For us, broken biscuits are a critical defect. Not only did we want to increase our customers' perception of the quality of our products, we also wanted to eliminate the risks of packs being incorrectly sealed due to biscuit bits getting in the way," explained Fabien Ployon, Production Manager at Nutrition & Santé's production site in Annonay, France.

"We looked at the vision systems on the market and contacted a number of companies. All but Keyence declined on account of our speed requirements, which allows for a window of just 150 ms for inspecting each stack.


"We needed a detection solution that could handle the huge quantities of biscuits that are processed each minute and operate around the clock. We installed and programmed the CV-5000 vision system with the assistance of Keyence's technical department. Edge detection/position is performed by two cameras placed approximately 200 mm above the biscuits on each line. A different programme has to be set for each of the thirty-odd shapes and sizes conveyed on each line.

"Edge detection/position is just one of the 19 inspection tools available with Keyence's CV-5000 vision system. Each of the inspection tools makes it possible to set up a detection application simply and quickly. Despite not having any previous experience in vision systems, the CV-5000 was easy to set up and use. It took a little time to optimise it to our needs, but now we are familiar with it we have since embarked on a process of continual improvement," added Ployon.


This biscuit inspection application was made possible by the processing speed of Keyence's CV-5000 system, one of the most powerful self-contained vision systems on the market. For example, it allows 1 million pixels to be processed in 20.5 ms. This processing power also makes it possible to perform multiple inspections and further enhance the reliability of in-process inspections thanks to its unparalleled repeatability (seven times higher than that of current standards) and image-processing tasks that optimise inspection accuracy. The CV-5000 Series is controlled by a high-speed colour image processing engine and a high-speed reduced instruction set computer (RISC) CPU. Both are supplemented by two digital signal processors (DSPs) designed specifically for image processing. All CV-5000 Series models use these four processors to achieve parallel processing and obtain the fastest processing speed possible – around twice that of the leading models available on the market. The system is also equipped with a double-buffer memory that allows it to accept the next trigger input while an image is being processed.

"Because the CV-5000 vision system works faster than our lines, it gives us definite leeway. It runs seven days a week and we are very satisfied with its detection reliability and stability," concluded Ployon.

www.keyence.co.uk