MoU between BINDT and ICorr
The British Institute of NDT (BINDT) and the Institute of Corrosion (ICorr) have taken their relationship to the next stage by signing a Memorandum of Understanding (MoU) to document the special relationship that exists between the two Institutes and to lay down a moral commitment to the ongoing process.

It is noted that the relationship that has developed between BINDT and ICorr since 2007 is one of mutual respect and trust. This relationship is unique and there is a desire to protect it by articulating its key features within this MoU.

The overriding principle in working together shall be respectful and complementary collaboration. Thus, ICorr will always work in the best interests of BINDT and it will, when possible, promote BINDT and its products and services. Likewise, BINDT will always work in the best interests of ICorr and it will, when possible, promote ICorr and its products and services.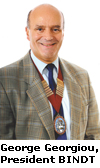 George Georgiou, President of BINDT, said: "This is an historic moment, instead of being absorbed by larger organisations and losing identity, our Institutes have developed a collaborative process which will provide a unique opportunity to secure our future, maintain our identities and increase membership value."

As constituted, the Joint Policy Group is the focal point for inter-Institute discussions. It will meet on a regular basis to discuss progress and to propose new opportunities. From time to time, and as required, there may be a need to convene Working Groups that report to the Joint Policy Group. The nature of the business discussed shall be on a 'best-fit for both Institutes' basis. Neither Institute should feel threatened by the other or compelled to agree to something that is not in the best interest of its members.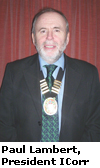 Paul Lambert, President of ICorr, said: "We have worked hard for three years to get to where we are, going forward we will achieve stability and security from working with each other and our members will benefit from increased and improved products and services. There is a lot of synergy between ICorr and BINDT and we are already considering a number of collaborative projects to pursue."

This MoU is based on the principle that the synergies gained by working together will enable ICorr and BINDT to have a greater impact than if the two Institutes were to work separately and alone.



To download a summary of the MoU, click here.

Members may download the full version of the MoU, click here.

More information about The Institute of Corrosion may be found at www.icorr.org