Employers to help bridge skills gap in NDT sector at free industry forum
26/04/2019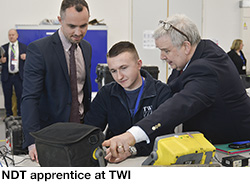 An award-winning apprenticeships training provider, together with a group of non-destructive testing (NDT) training schools, are hosting a specialist forum for employers to help tackle the growing industry skills gap.

The innovative NDT Apprenticeships forum will take place at the Advanced Manufacturing Training Centre in Coventry on the 15 May 2019.

The event is co-hosted by Skills Training UK, which was recently awarded 'Outstanding Contribution to Apprenticeships' for its work within the sector, alongside leading NDT training schools and partners: TWI, IMechE Argyll Ruane, Lavender International, South West School of NDT and the University of Northampton.

Non-destructive testing is critical to the safety of industries such as manufacturing, aerospace, automotive and oil & gas and other STEM sectors, but reports suggest that the ageing workforce of those conducting these roles is contributing to a wider skills gap and costing £1.5 billion to UK industry[1].

During the event, experts will be on hand to talk about the significance and scope of the apprenticeship programmes to the industry, which include the Level 2 NDT Operator, Level 3 NDT Engineering Technician and Level 6 degree standard NDT Engineer.

Roger Lyon, Project Manager of the Apprenticeship programmes for BINDT, will speak at the event about the importance of the apprenticeships for the industry.

Roger said: "With over 150 apprentices already enrolled across the three standards, we are already seeing the impact for employers across a wide range of sectors, including engineering, manufacturing, aerospace, automotive and energy.

"Working together, the professional body (BINDT), the employer group, a proactive lead provider (STUK) and specialist NDT training schools (ATOs) are providing our industry sector with opportunities they have never had before.

"This forum is a great opportunity for employers across these sectors to learn more about the NDT programmes and see first-hand what benefits the apprenticeship training can bring, such as helping introduce new technical skills and developing a workforce that is fit for the future."

Representatives from EDF Energy and Responsive NDT will also share with employers their reasons for investing in the NDT apprenticeship programmes and the benefits that the training is bringing to their workforce.

Stephen Crawley, Chief Operating Officer at Skills Training UK, said; "Whilst some employers are already reaping the benefits of the NDT apprenticeships, many are unaware of the funding opportunities available to them. This includes levy-paying employers who will already have a pot to invest in apprenticeship training and SME employers who only have to contribute 5% to the cost of apprenticeships.

"We look forward to meeting forward-thinking employers who are looking for ways to invest in their workforce and help bridge the skills gap within NDT sectors."

Employers can register for either a morning or afternoon session and are encouraged to reserve their space now at http://bit.ly/NDTSkillsGapEvent. Both sessions include a free lunch and have limited spaces available.
Reference:
1. Skills Shortage costs STEM sector £1.5 billion https://www.stem.org.uk/news-and-views/news/skills-shortage-costing-stem-sector-15bn