Midsummer relocation for BINDT
02/08/2016
The British Institute of Non-Destructive Testing (BINDT) is to relocate to Midsummer House, located on Riverside Way, just off Bedford Road, Northampton. The extensively refurbished premises comprise a combination of open plan and cellular offices, along with a number of meeting rooms, within a spacious three-storey building.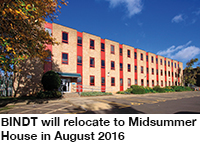 The new property has been purchased in response to the expansion of the secretariat of the Institute and to accommodate future growth. Midsummer House is situated close to Northampton town centre, the A45 interchange and junction 15 of the M1 motorway and is opposite Midsummer Meadow Recreation Ground, Barnes Meadow Nature Reserve and the River Nene.


Cameron Sinclair, CEO of BINDT, commented: "This is a very exciting time for the BINDT secretariat and those volunteers who regularly use our headquarters for meetings and other business. Midsummer House will be our home for years and possibly decades to

come. It will enable us to continue to grow in size and hold more meetings concurrently and the purchase makes very good use of some of our capital reserves, built up over previous years. I look forward to welcoming many volunteers and members to Midsummer House in the future. In the meantime, I recognise the enormous amount of work that has been undertaken by staff and senior officers to achieve this major step in BINDT's development."
In order to minimise disruption, the relocation to Midsummer House will take place during the bank holiday weekend in August 2016. All correspondence should continue to be sent to the current address until then.
With effect from 30 August, the new address will be:
The British Institute of Non-Destructive Testing, Midsummer House, Riverside Way, Bedford Road, Northampton NN1 5NX.