Smart Sensor performs condition monitoring
18/09/2018
STEGO has introduced the Smart Sensor CSS 014 to measure temperature and humidity and help maintain an optimal climate.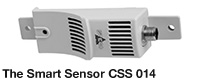 The permanent measurement of temperature and humidity in the switch cabinet is an important element in preventing condensation, which leads to corrosion and thus the failure of components. For this, the CSS 014 combines three functions in one compact device: it is a sensor, interface and transmitter all in one.

It measures ambient temperatures with high sensitivity within a range of –40°C to +60°C, while keeping a close eye on the relative humidity range from 0 to 100% relative humidity (RH).

The CSS 014 Smart Sensor transmits data as a standardised analogue 4 mA to 20 mA signal. With this signal, users can further process and convert the measured values within a control or monitoring unit, for example a PLC. Due to high measuring accuracy and signal strength, connection wires with a maximum length of 30 m can be used. Thus, scenarios beyond the classic control cabinet application can be implemented. In principle, any larger, spatially sealed application with a defined atmosphere is suitable.

The sensor unit of the CSS 014 is thermally decoupled and encapsulated with a circumferential seal. The rewards of this include a high vibration resistance and compliance with the IP20 degree of protection. Operating voltage is 24 VDC with a maximum power consumption of 1.8 W (typically 0.4 W).