Young GCC engineers in demand
17/04/2008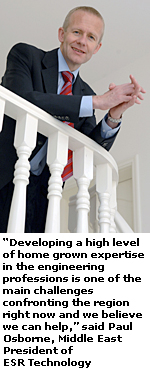 ESR Technology announces major Middle East expansion in $950 billion energy, petrochemical and aviation project market



One of the world's leading engineering, safety and risk management companies with high-profile clients in the energy and aviation industries has announced major expansion in the Middle East and is encouraging young nationals of Gulf Co-operation Council (GCC) countries to join them.

The company's Middle East expansion is based on huge growth in the oil and gas, petrochemical, power and water and airport sectors as the region brings forward major new projects and programmes to extend the life of existing plant.

In the GCC countries there are more than 1000 current such projects worth a combined total of around $950 billion, which could utilise the expertise of the UK-based ESR Technology (see Table).


Major GCC Projects*

Oil downstream

78 projects

$150 billion

Oil upstream

154 projects

$112 billion

Gas downstream

77 projects

$97 billion

Gas upstream

45 projects

$35 billion

Petrochemicals

153 projects

$184 billion

Power and water

455 projects

$353 billion

Airports

66 projects

$18 billion

Total

1028 projects

$949 billion

*All projects worth $5 million or more, either planned or underway,
in Bahrain, Oman, Kuwait, Qatar, Saudi Arabia and the United Arab Emirates
Source: Proleads (www.projectsandleads.com)


From newly-established regional headquarters in Dubai, ESR Technology is recruiting high-level senior consultants from around the world and expects a full 20% of company staff to be based in the Middle East by the end of this year.

Recruits are coming from Europe, North America, Asia, and the Middle East but ESR Technology – a privatised spin-off from the UK Atomic Energy Authority with a world-class independent reputation – especially wants to see more young engineering graduates from the Arabian Gulf countries on its payroll.

"Developing a high level of home grown expertise in the engineering professions is one of the main challenges confronting the region right now and we believe we can help," said Paul Osborne, Middle East President of ESR Technology.

The company is a sponsor of the Engineering Challenges conference which takes place on 14 April 2008 and is associating with the new UAE Higher Colleges of Technology Centre of Engineering Excellence to be opened by HE Sheikh Nahayan Mabarak Al Nahayan, UAE Minister of Higher Education and Scientific Research, at Dubai Men's College on the same day.

"This is not only part of our strategy to raise our profile throughout the region but we see it as an important potential source of high quality local graduates to join our team," Osborne added.

"There is a critical skills gap in the market between young entrants coming into the engineering professions and the very experienced senior consultants. We believe that by working with the Centre of Engineering Excellence we can provide local graduates with a fantastic opportunity to benefit from the knowledge and experience of our experts.

"Our consultants have formidable expertise and an independent reputation in the core disciplines of engineering, safety and risk management. While we are a relatively small team – around 120 worldwide – more than 20 of our senior consultants are PhDs, including two visiting professors."

ESR Technology has been working in the Middle East for the past 20 years, servicing contracts from the UK with the co-operation of local sponsors. Middle East clients include Dolphin Energy, Abu Dhabi Marine Operating Company, Qatar Liquefied Gas Company, and RasGas, as well as regional operations of major multinationals.

The company has now established its new HQ in Dubai to serve the whole region and beyond. "Our investment in both Dubai and Abu Dhabi is a measure of the importance we place on the Middle East," said Osborne, 38, who is also an ESR main board director.

Examples of the kind of work ESR Technology carries out are technical safety assessments identifying and managing the risks of major hazards such as fire and explosions at oil and gas plants in the Middle East. In the aviation sector, ESR Technology's expertise has been called on to help develop safety regimes for airfields in the region.

ESR Technology's association with the UAE Higher Colleges of Technology Centre of Engineering Excellence fits in with the company's involvement with internationally renowned centres of excellence. The company itself hosts and manages five such centres including the European Space Tribology Laboratory and the UK National Centre of Tribology, which are involved in the study of friction. ESR also runs the UK National Non-Destructive Testing Centre, a pump centre and an international industry forum dedicated to enhancing inspection and testing technology in order to improve safety in the oil and gas industry called HOIS.

Across the world, ESR Technology teams work in many industry sectors, including aviation, space, defence, oil and gas, power generation, renewable energy, rail and utilities. They provide independent technical advice, products and expertise in managing safety and risk, ensuring plant and asset integrity, and improving machine reliability.

"ESR Technology has enabled many companies to improve their profitability by the application of a coordinated collection of skill sets, and creative, innovative solutions to their technical and commercial challenges," Osborne said.

ESR Technology was previously the engineering, safety and risk division of AEA Technology, which was formed from the commercial arm of the UK Atomic Energy Authority.

ESR Technology is backed by Coller Capital – a leading investor in private equity secondaries worldwide with approximately $8 billion under management. The private equity company is also financing the Middle East expansion of ESR Technology.

For more information about ESR Technology, visit www.esrtechnology.com