Blended learning proves beneficial to Spanish NDT students
08/12/2016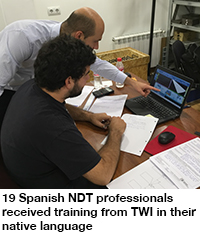 Nineteen Spanish non-destructive testing professionals have become the latest students to benefit from TWI's blended learning service, receiving training delivered in their native language.

The Asociación Española de Ensayos No Destructivos (Spanish Association of Non-Destructive Testing) approached TWI for training in phased array ultrasonic testing (PAUT) after being unable to source training to the same standard within its own country.

TWI responded by sending three lecturers to Madrid in September to deliver two sessions of the course back-to-back, the first for eight students and the second for 11. The students taking part were all experienced NDT professionals working for companies across Spain.

The course presented TWI with an opportunity to demonstrate the versatility of its eLearning solution, which is available in multiple languages. Comprising one week of online study followed by two weeks of classroom-based tuition, it was the ideal option for the Spanish students, fitting around their business commitments and minimising the time they would have to be away from work.

TWI monitored each student's progress during the eLearning segment to make sure they were all ready for the classroom tuition, when they were each provided with an individual laptop, software and equipment.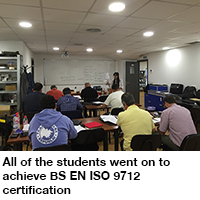 TWI's three lecturers, one of whom speaks Spanish, were very impressed with the level of knowledge and professional backgrounds of the students on the course and enjoyed teaching in a relaxed and friendly environment.

The 19 students enjoyed a very high success rate, going on to achieve certification to BS EN ISO 9712. This will give their employers confidence in the quality of their work and strengthen their individual credentials.

www.twitraining.com