Young engineer triumphs at Construction's Young Professionals Award
08/05/2014
Victoria Martin, a Senior Structural Engineer at Expedition Engineering, has won the Engineering prize in the prestigious Duke of Gloucester's Young Achievers Scheme.

The shortlisted candidates joined over 200 senior industry figures and HRH The Duke of Gloucester at the awards evening at the Underglobe, London, where the winners were announced. The finalists were judged by an esteemed panel of industry experts through a rigorous process of presentations and interviews held earlier in the year.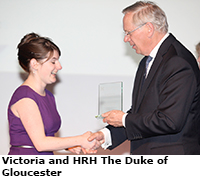 Victoria, a 29 year-old Site Structural Engineer at Expedition Engineering, impressed the judges with her maturity and understanding of the issues within engineering. They called her a "real champion for the industry and a real change agent."

Victoria commented: "Engineering was not an obvious career choice for me. Having attended an all-girls school where less than twenty students studied physics at A-level, careers support focused on professions in medicine, law and the arts. My interest in a combination of science and design subjects made me something of an anomaly and I had to investigate the options myself.

"The route into engineering was equally challenging; as the first in my family to attend university, I had to forge my way through the application process and understand the different options available. Financially committing to a five-year degree was also a strain. I had to combine a gruelling 35-hour weekly lecture schedule and associated independent study with three part-time jobs to support myself. In spite of this, I graduated with first-class honours and was awarded the Hoare Lea Prize for sustainable design.

"In my professional career, I am still faced with daily challenges. As a petite female, the initial perception of me is often that I must be on work experience. I am acutely aware of the importance of making meaningful contributions and demonstrating my professional competence in order to ensure I am able to change this first impression. With this in mind, I have worked hard to develop my presence and persona to convey the status required of my role."

Victoria has recently worked on the new Greek National Library, part of a €360 million cultural centre in Athens. Victoria worked on the technical design, design coordination, information production and overseeing the liaison with local partners.

Outside of the workplace, Victoria is also heavily involved in the future of engineering. As well as her role as a STEM ambassador, she has been working with the Royal Institution to develop their Engineering Masterclass lecture series for young people, which has now been rolled out nationwide.

Victoria is also incoming Chair of the North Thames Region of the IStructE and an elected member of their Council, the youngest ever board member and a trustee. Her involvement is spreading beyond the structural sector and she has been asked to sit on the IET's Built Environment Executive.

The judges referred to Victoria as: "an outstanding, charismatic candidate who has achieved a lot in her career. She is prolific in getting the message about construction out there. She exhibits an extraordinary passion for the development of her own skills and knowledge as a young person within the construction industry; this drive encapsulates the very essence behind The Duke of Gloucester's Young Achievers Scheme."

The awards have five categories: Design and Architecture, Construction Delivery, Engineering, Surveying and Project Management. Winners each receive a cash prize, a unique package of support through the Trust and development opportunities through a one-year mentoring programme, to enable them to make an even greater impact in their future careers.

The Trust is delighted to announce the remaining winners:

Design and Architecture: Jordan Jones, AECOM.
Construction Delivery and overall winner: Gary Fowler, J Breheny Contractors.
Surveying: Jonathon Baylie, Vinci Construction UK.
Project Management: Harriet Bower, Balfour Beatty.
The highly commended finalists were as follows:

Construction Delivery: Victoria Turner, United House.
Engineering: Brett Holmes, BAM Nuttall.
Surveying: Mohammed Usman Shah, Costain.
Now in its third year, the scheme, with the support of the Trust's Patron, HRH The Duke of Gloucester, has provided an opportunity for exceptional young professionals to be commended and celebrated for their achievements. It particularly looked for young people who have overcome barriers to get to where they are now and judges read applications from young people who had shown exceptional resilience and determination.

Construction Youth Trust Director Christine Townley commented: "We are delighted with the success of our awards scheme, which has showcased again the exceptional young talent in construction today. Each of the winners has made significant progress despite having to overcome challenges to get there. They have all shown real determination to succeed in their chosen career.

"As a charity, we support young people from all walks of life to enter the construction industry. We hope that by showcasing what these young people have achieved and recognising any challenges they have overcome, we can show the next generation of young professionals the wealth of opportunities available in the sector.

"We are extremely grateful to all of our sponsors, judges and our Patron, HRH The Duke of Gloucester, for making these awards possible."

This year's awards were sponsored by CITB, KPMG, AECOM, Byrne Group, EC Harris and John Rowan and Partners.

www.constructionyouth.org.uk