New facility for JFIMS to accommodate expanded workload
10/11/2008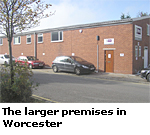 The Worcester NDT inspection operations of JFIMS have moved less than a mile to larger premises to accommodate an increased workload. The new facilities include a VJIS digital X-ray system as well as five conventional X-ray bays and a spacious viewing suite.

As well as being better suited to the core job of carrying out inspections and delivering the results to customers, the facility also has additional space and an improved layout for inbound and outbound inspection items, smoothing the receipt and return logistics. The facility remains close to the motorway network and customers in the Midlands Aerospace Cluster.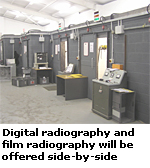 The Worcester NDT inspection operations focus on UKAS and NADCAP-accredited inspections, primarily of aerospace components. As part of the manufacturing process, these castings and welded assemblies will require an X-ray inspection to check for manufacturing defects such as cracks or voids, which could impact on their in-service performance. The X-ray images are examined under carefully controlled conditions and defects identified and reported.

The majority of JFIMS customers require the use of film for X-ray inspection work as part of their quality assurance process. However, a number recognise that there are significant down-stream benefits from digital X-ray technology and that digital image quality comparable to conventional film radiography can be achieved. In particular, the archiving and storage of films can be a significant issue for customers with a requirement to retain records for the lifetime of the component, whilst advances in digital storage media have reduced the cost, volume and the retrieval time of the archive.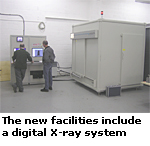 JFIMS has therefore invested in a 225 kV digital X-ray system from VJ Inspection Systems, which delivers high-quality images without requiring film and film processing. The X-ray source and flat panel detector are mounted on a 'C arm' manipulator, which with a turntable offers five axes for manipulation. The manipulator and X-ray set are fully programmable, allowing a series of shots in a technique to be run automatically from a single placement of the inspection piece on the turntable. The digital images can be viewed immediately or stored for later viewing. Viewing is assisted by a number of tools including defect enhancement algorithms.

The JFIMS plan for radiography is that digital radiography and film radiography will be offered side-by-side and film will be used for as long as customers require it. "In some instances we believe our customers will wish to continue with film for some time in order to avoid the need to revise their quality procedures, and in some specific instances there may be a long-term ongoing need to retain film in situations requiring highly flexible or small films, for example

in situ

radiography of pipes," said Nick Troughton of JFIMS.

UKAS and NADCAP accredited inspections are also carried out at the JFIMS Sittingbourne and Queensferry sites. At Queensferry, a new 320 kV X-ray system for the inspection of steel components has recently been installed. In addition to component testing, JFIMS has a Site Services team for inspection of welds, tanks, vessels, columns, towers, heat exchangers, condensers, pipelines, and a wide variety of miscellaneous equipment and plant.

The new facility at Worcester also supports the radiation protection activities of JFIMS with a workshop, spares storage and office space. The scope of activities includes the supply, installation and maintenance of a broad range of radiation protection instrumentation including monitors for radiation and contamination in the environment as well as on personnel, tools, vehicles, bags, packages, drums and crates, as well as active and passive dosimetry systems.

Instrumentation is supplied for detection, identification and measurement to customers including the nuclear industry and the nuclear power stations as well as fire brigades, hospitals, the armed forces, various civil defence agencies and other NDT companies. The workshop will be used by the maintenance and support team for repairs of radiation protection instrumentation and is a convenient location for strategic spares holding.

The new address, phone and fax details are: James Fisher Inspection and Measurement Services Ltd, 72B Blackpole Trading Estate West, Worcester, WR3 8TJ. Tel: +44 (0)1905 459790; Fax: +44 (0)1905 459791; Email: contact@jfims.co.uk

www.jfims.co.uk