Institute Organisation
About Us
Committees
The Institute has eight propositions through which stakeholders engage with BINDT, spearheaded by its marketing and PR capabilities and underpinned by its IT capability, its 'establishment' (people, premises and facilities) and its partners.

Figure 1 shows the Institute's committee structure in schematic form.

The key committees have oversight responsibility for BINDT's operations and the execution of the strategic plan, as shown in Figure 2. They report to BINDT's Council (Trustees) and are, in some cases, empowered to make decisions on behalf of Council (for example membership and registration). The committees are:

Governance Advisory Committee

Finance Committee

Establishment Review Committee (ERP)

Croxson (Awards & Recognition) Committee

NDT Technical Committee (NDTTC)

Membership, Qualification & Education Committee (MQ&E)

Education and Professional Development Committee


Certification Management Committee (CMC)

CM Technical Committee (CMTC)


Trade & Industry Executive Committee.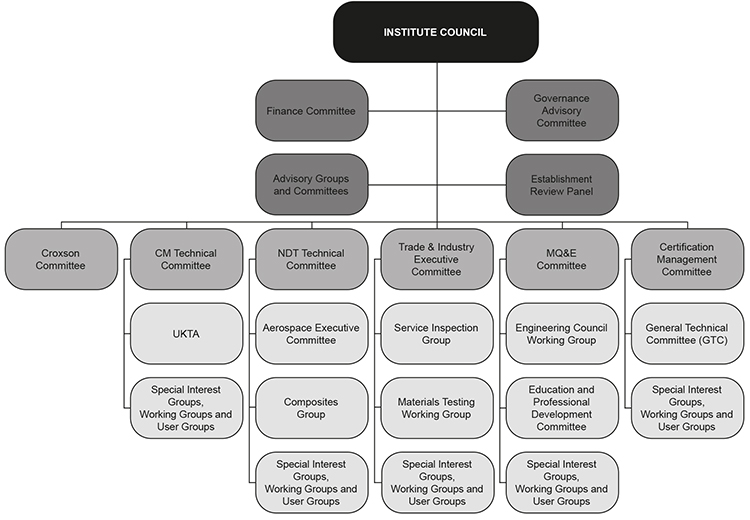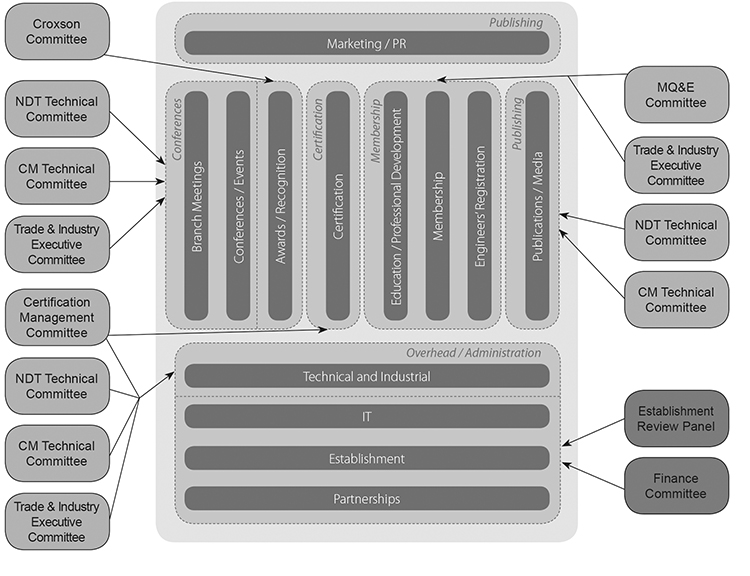 Special Interest Groups
The Institute has a number of groups that meet the specific needs of members with particular interests:

Aerospace Executive Committee

Composites Group

NDE 4.0 Group

Service Inspection Group (SIG)
UK Thermography Association (UKTA).
Advisory Groups
Advisory Group on Strategic NDT Leadership

Diversity and Inclusion Advisory Group

Practitioner Committee.

Working Groups
Engineering Council Working Group

Joint NDT/SHM/CM Working Group

Materials Testing Working Group

NDT and CM Certification Working Groups

Standards Working Group

Working Group on NDT for Heritage Boilers.

User Groups
Current User Groups include:

Technique Validation and Qualification User Group

SHM User Group

Air-Coupled Ultrasound User Group

FMC User Group

Non-Linear UT User Group

Terahertz User Group.