FSN Racing team hungry for victory in 2015
30/03/2015
With less than five months to go until the 18th Formula Student UK competition takes place at Silverstone, the Formula Student Northampton (FSN) Racing team – sponsored by BINDT – has revealed the new plans and designs for its 2015 single-seat racing car, and has officially opened its new garage facility based at the University of Northampton's Avenue Campus.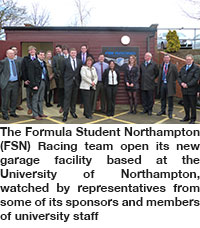 Formula Student is Europe's most established educational motorsport competition, run by the Institute of Mechanical Engineers. The competition gives students real-world engineering experience as they conceive, design, build, cost, present and compete in static and dynamic events with their single-seat racing cars.

The results of the 2014 competition left the team hungry for victory and it shows in the new streamlined design for the team's car. Mesha Potton, BSc Engineering student and Business Manager for the 2015 FSN Racing team says: "Our 2015 team consists of highly motivated and driven engineering students."

Through better communication and increased utilisation of knowledge from their sponsors, this year the students have gained a better idea of the parameters and properties of the vehicle they are designing. This, along with with the generous support from a new sponsor, Daventry-based research company Axillium, has helped the team to generate a promising design for the 2015 FSN Racing car, which is set to include the use of the engine from the 2014 model, saving both time and money, plus a chassis made from hybrid carbon composite materials, resulting in a considerably lighter car. The team also has the opportunity to work with an engineer from Axillium for two days a month during the design and start of the build phase.

The FSN Racing team received a financial injection and a boost to its morale when it secured a win at the Silverstone Park Business competition in September 2014, providing the team with a six-month package of support, including up to £1000 to spend on tailored support or professional services, and the support of Richard Redman from Barclays, a business mentor selected from the judging panel of independent mentors. The FSN Racing team's motivation increased even more following its victory, when they attended IMechE's 'Learn to Win' event in October 2014, which was filled with inspirational discussions, presentations and drop-in sessions.

The team is now ready to accompany the car builders so that the engineering bill of materials (eBOM) can be completed. With the integral design and financial elements in hand, the team can now concentrate on the functionality of the rest of the vehicle, including putting it through a rigorous course of tests and simulations. All in all, the position of the FSN Racing team looks promising for the 2015 competition.