Maintec 2014: The countdown has begun
17/02/2014
With an array of show features, a major education programme, a hall packed with exhibitors and two new co-locations, there's a real buzz building around the 39th edition of easyFairs Maintec, which returns to the NEC from 11-13 March 2014.

Maintec is an event that focuses on the needs of plant and asset managers, engineers and maintenance personnel. Visitors will have plenty to see on the show floor, including more exhibitors than ever before, an expanding Hazex area and a return of the Business Strategy Conference, which made such an impressive debut at the last show. This will once again be hosted by Dr Andrew Starr from Cranfield University.

There will also be the Maintenance Exchange, featuring a rich programme of practical presentations delivered by leading industry names. This is designed to help visitors update themselves with the very latest 'best of breed' thinking and so reduce costs and improve plant performance.

Exhibitors at Maintec 2014 will include many major names and show regulars, such as Schaeffler (UK), Fluke UK, Hansford Sensors, Idhammar Systems, Lobo Systems, SoftSols, T-Cards Direct and Valveforce. These will be joined by a plethora of new exhibitors, including Matthews Engineering Training, IRISS and Lighthouse UK, and there will be a welcome return for FLIR Systems.


FLIR is marking its return to Maintec with an impressive display of new technology. The company is a market leader, a position that is underpinned by its continued and high commitment to research and development. In the last year alone, the company applied for 60 patents and many of these innovations are featured in the two new series of thermal imaging cameras that will be introduced at the show.

Ease of use and intuitive operation are the overarching attributes of both the new FLIR Ex and Exx Series thermal imaging cameras. The FLIR Ex Series provides a highly cost-efficient gateway to thermal imaging. These are entry-level models that pack a powerful punch with features that were initially only available in higher-end models.

A built-in visual camera is also included and all but one of the models in the series include the fusion function, picture-in-picture. Naturally, the FLIR Ex Series, with a fixed focus-free lens, is exceptionally easy to use. Just point, shoot and all the required temperature data, up to +250°C, is automatically embedded.

For those who want a more advanced camera that is thermally tuneable and has a manual lens focus, FLIR Systems has introduced a new generation of its FLIR Exx Series. Three models provide resolutions up to 320 × 240 pixels and naturally they all come complete with MSX technology, which provides exceptional quality in real time.

First-time exhibitor Matthews Engineering Training will display how its Boiler Inspector Certificate Programme provides comprehensive and independent training with an examination for inspectors who inspect steam 'package' boilers. Matthews' objective is to provide boiler inspectors with demonstrable competency training, independent from their employers.

Fluke (UK), an expert in the manufacture, distribution and service of electronic test tools and software, will be showcasing a wide range of rugged and reliable portable test instruments suited for maintenance applications. In particular, it will focus on its new Ti200, Ti300 and Ti400 thermal imaging cameras, the Fluke 1730 energy logger, its latest power quality analyser and vibration tester, plus the Fluke VT02 and VT04 Visual IR Thermometer and its CNX Wireless Tester.

Hansford Sensors will be showcasing its latest vibration monitoring products, including a new range of premium industrial accelerometers, plus the latest 4-20 mA transmitters or loop powered sensors (LPS) and the new M12 cable assemblies, with protective conduits and snap-on, quick-release cables. With the capability of interfacing directly into PLC, BMS or SCADA, the
4-20 mA transmitters/LPS are suitable for low-cost, online monitoring.

Alongside these new additions, Hansford Sensors will also be using Maintec to promote a new range of high-performance industrial accelerometers. These will include standard sensors, for use with all rotating and reciprocating equipment, plus submersible and ATEX-approved sensors for specialised applications, multi-sensor switch boxes, vibration sensor modules, portable vibration meters and condition monitoring protection systems.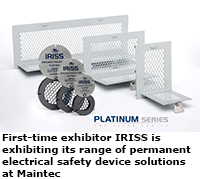 Another first-time exhibitor, IRISS, is building on its strong foundation in the maintenance market to become a rounded supplier of permanent electrical safety device solutions (PESD) that are said to allow its customers to inspect the 'uninspectable'.

These are products that permit maintenance tasks to be completed whilst switchgear remains closed and in a safe and guarded condition. They help asset managers to identify faults in energised systems before they become failures and, above all, they do so without ever exposing the maintenance engineer to danger.

Maintec 2014 will also see the return of the Maintenance Professional Awards, which were introduced at last year's event. The awards recognise those who have applied expertise and technology to the maintenance process and delivered real commercial benefits as a result. There are two categories: 'Maintenance Professional of the Year' and, in support of newer entrants to the industry, 'Maintenance Apprentice of the Year'. The winners will be announced live on the show floor.

There will also be a return of the popular 'Lions' Lair', where new maintenance and engineering technologies, innovations and concepts are pitched to an expert panel in a bid to be voted 'Best of Show'.

The Institution of Diagnostic Engineers (IDE) will host a spring conference during Maintec. This will be attended by members of the Institution of Local Exhaust & Ventilation Engineers, another show supporter.

The co-locations are designed to give visitors to Maintec even more to see. The first of the complementary shows is Facilities Management. This brand new show is a huge development for facilities, property and estate managers, and is a neat fit as many Maintec visitors also have a wider facilities management remit.

Maintec 2014 will also be co-located with a new Health & Safety Event. This is another smart development as the UK's maintenance, plant and asset management community increasingly has to consider health and safety issues, as Matt Benyon, easyFairs UK & Global Managing Director, explained: "When looking at what we could do to drive even more visitors and provide yet more relevant content to the community of maintenance and engineering professionals who head to the show every year, health and safety presented itself as a key area to focus on. After all, 25-30% of all manufacturing fatalities are typically related to maintenance activities. Co-locating with a health and safety show reflects our commitment to once again step the show up another gear."

Further information about visiting or exhibiting is available at:
easyfairs.com/maintecuk