Lavender International launches new work experience laboratory
20/09/2022
Lavender International has revealed a new work experience laboratory specifically designed to replicate multiple industry sectors and represent real-world inspections, allowing NDT technicians the ability to gain valuable work experience.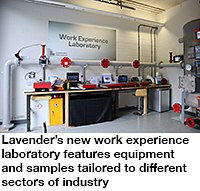 The laboratory features a pipework system, a pressure vessel and a range of plate, pipe and nozzle samples, ranging from extremely thick down to less than 3 mm. The laboratory also includes extremely rare samples containing genuine high-temperature hydrogen damage, along with flange face corrosion, weld root erosion and hydrogen cold cracking, including stepwise cracking.
Materials comprise ferritic and austenitic steels, including welds, and a significantly large ex-service corroded sample located outside adjacent to the laboratory. The laboratory has been designed to be an integral part of the Lavender accelerated work experience programme.
Lavender International held a soft launch for the new workshop on 30 June, with NDT professionals able to try out the equipment and talk to NDT training specialists. There were demonstrations over 15 different stations set up across the laboratory using the latest technology, including the Gekko from EddyFi Technologies, the Evident MX3, the RMS automated corrosion mapping system, a tank floor scanner system and a variety of eddy current testing (ECT) and visual testing (VT) equipment.
Inspections ranged from examining a small-bore pipe to pipe weld using a basic phased array set-up with a Cobra scanner attached to the pipe system installation, detecting high-temperature hydrogen attack damage using the TULA probe, as well as applying combined phased array and TOFD for weld inspection and phased array applications for austenitic welds.
The team demonstrated corrosion mapping using automated ultrasonics for corrosion and erosion, magnetic flux leakage, ultrasonic applications, VT and ECT.
The laboratory also features Lavender International's famous 'Harry the Hydrocracker', which was on display at the Materials Testing Exhibition in 2019.
The equipment and samples have been specially tailored to different sectors of the industry to provide students with an interactive experience that is relevant to the area they work in. For example, to achieve scans, students will have to reach up high or lean at awkward angles, much like in the field.
As well as the company's work experience programme, the equipment is open to anyone to use, including qualified individuals who want to brush-up on their technique for their own benefit. Instead of artificial samples, the workshop is kitted out with samples that contain real defects from industry to provide students with accurate representations.