CM Innovation Award
Open award for members and non-members, CM Award
Award criteria

Purpose: For a significant contribution to technology innovation, technology transfer or technology strategy in the field of condition monitoring (CM) over a period of at least 5-10 years.
Details of the award: A certificate, £300 cash and an invitation to the CM Annual Conference Dinner, with free registration for the day and one night's accommodation for either the individual winner or, in the case of a group winner, a nominated representative.

Eligibility: Nominees can be individuals or groups who have made a significant contribution to CM technology through R&D technology transfer into industry or who have developed a strategy that has led to technology development and exploitation.

This is intended to recognise contributions over a period of at least 5-10 years.

The proposer of the award should be a voting member of the Institute. If they are not, they will need to ensure the application is endorsed by an Institute voting member.

Frequency: It is anticipated that one award will be made annually providing suitable nominations are received.

Nomination arrangements: Nominations should be submitted by email to: karen.cambridge@bindt.org

Nominations for the award will be reviewed by the CM Technical Committee (CMTC). If there is only one nomination, then the CMTC should vote to confirm whether the nomination is eligible and, if so, to approve the award.

If there is more than one nomination, then the entries should be sent for judging by a panel set up for the purpose. Four members of the panel are to be appointed by the CMTC. Each judge will be invited to score the entries on a point scale of 0 to 3 and send the scores to Karen Cambridge, who will total the scores, and the entry receiving the most points will be declared the winner.

Awarding arrangements: The certificate and cash prize will be presented to the winner at the CM Annual Conference during the Conference Dinner by the Chair of the CMTC.
Committee: CM Technical Committee.
---
Winners
2022 winners:
Professor Dr Georg Herborg and Dr Christian Svendsen

The CM Innovation Award for 2022 is awarded to Professor Dr Georg Herborg and Dr Christian Svendsen.



Georg Herborg completed a PhD in physics with Aarhus University, Denmark. Following that, he worked for approximately ten years in the wind industry as Global Director of Tooling for wind turbine blade manufacturing. Since 2017, Georg has held the role of Director of Innovation at Danfoss High Pressure Pumps, with accountability for all new technology scouting and maturation, research and development (R&D) activities and new product developments.


Christian Svendsen completed a PhD in molecular quantum physics with the University of Southern Denmark within the field of scattering and absorption studies of molecules. Following that, he initially worked as a university lecturer and for the last 24 years has worked in industry, covering a wide range of technical areas. His main focus has been on the theoretical, num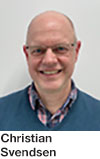 erical and experimental studies of high-end hermetic compressors and positive displacement pump
s.


Since 2013, Christian has, as a Senior Technology Specialist, been leading the computational fluid dynamics (CFD) and vibroacoustic studies at Danfoss High Pressure Pumps, as well as the execution of complex simulation model validation measurements. As such, Christian is a key person within the strategic efforts to create an effective and value-adding condition monitoring solution for the company's product portfolio.


Past winners: