Lifetime Achievement Award for Martin Dawson
10/03/2015
Martin Dawson IEng HonFInstNDT has spent most of his working life involved in non-destructive testing and condition monitoring, particularly in the areas of education, training and certification. As a volunteer, he has provided wide-ranging support to BINDT for 32 years, much of that as a senior officer. He joined BINDT in 1982.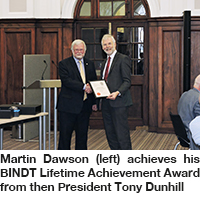 At an event held at BINDT headquarters in December 2014, BINDT staff and volunteers – including no less than seven Past Presidents – gathered together to pay tribute to Martin on the occasion of his retirement from full-time employment and BINDT committee involvement. He retains his membership of BINDT as an Honorary Fellow. The opportunity was also taken to present Martin with three prestigious awards, recognising his contributions to BINDT and the wider NDT community.

Martin started his career as a metallurgist working for British Steel. In the early 1980s, he joined P B Whitford's as part of a team offering training and certification in NDT. After a few years, Martin was influential in setting up a new company called Ruane & T P O'Neill, which in 1985 became Argyll-Ruane. Between 1985 and 1987, the CAA and City of Guilds desisted from conducting their own certification schemes in deference to PCN and a CSWIP/PCN transitional programme was put in place. During this time, under Martin's stewardship, Argyll-Ruane became a PCN Authorised Qualifying Body (AQB).

Under Martin's leadership, Argyll-Ruane continued to prosper and became one of the leading AQBs in the UK, earning a reputation for the successful mentoring of new entrants to the NDT profession. Argyll-Ruane also interacted well with industry and on at least one occasion set up an industry-specific training and certification scheme for the power industry.

Martin was elected as a member of Council of BINDT on 1 January 1988. As a Council member, Martin's contribution was invaluable, often seeing things more clearly than his contemporaries. He always had something to offer about any subject and many of his colleagues sought his council.

Martin continued to be influential in BINDT and in January 1992 was elected Vice President. He had been allocated to the Yorkshire Branch of BINDT and was responsible for many of their successes over the years; he also provided the venue for the Branch to have their meetings and was a member of the Yorkshire Branch committee. As a Vice President, Martin was required to sit on a number of other committees, including the President's Advisory Committee, the Finance & General Purposes Committee and the Finance & Strategic Planning Committee (later to become the Executive Committee).

Martin was also a member of the Institute of Corrosion and Argyll-Ruane developed and provided a training and certification service for the Institute of Corrosion, as well as acting as Certification Scheme Manager.

At the beginning of 1995, Martin was elected as President Elect for a period of two years and in January 1997 he was elected as President of BINDT. He used his position to foster relationships with many external bodies for the purposes of promoting NDT within the wider engineering profession. As President, Martin presided over the extension of BINDT's licence from the Engineering Council that enabled the Institute to register professional engineers directly.

Argyll-Ruane, encouraged by Martin, further supported the Institute by attending the annual conference as an exhibitor and active participant, and also supported the Institute's publications through advertising for more than 30 years continuously.

Following his term of office as President, Martin looked for other opportunities to support the Institute and in 2002 he joined the Membership, Qualification & Education committee (MQ&E), where he was able to use his considerable experience as a BINDT Accredited Trainer and a PCN AQB to influence the advancement and modernisation of the education processes.

By this time, BINDT had in excess of 50 approved training organisations and it was important that the standard of training and the standard of those providing the training were kept at a high level. To help oversee the approval training process, Martin joined the accreditation panel in 2003.

Following the success of encouraging students to come to the UK to further their careers in NDT, Argyll-Ruane, encouraged by Martin, looked for opportunities to take the education and training process overseas and subsequently opened a training and examination centre in Malaysia, which was a significant success.

Still pushing the boundaries of support for the British Institute of NDT, Martin was elected Honorary Secretary in 2003, a position he held for three years.

Martin's mentality was simply to help others and, to that end, he always encouraged his own staff at Argyll-Ruane to develop their own careers and reach the highest level of education. From 2007 onwards, he encouraged a number of staff to undertake the University of Northampton's newly-developed foundation degree in NDT and later the BSC Honours degree in NDT.

Martin was also an active member of the BINDT Benevolent Fund and as a Board Member was always looking for opportunities to widen the scope of the fund and to help as many people as possible.

Recognising the contribution provided by Martin Dawson, the Council of BINDT bestowed upon him an Honorary Fellowship in 2008.

Martin continued to support the Institute and in January 2012 he joined the newly-formed Education Committee and, at the same time, was again elected to Council.

At his retirement event in December, Martin was presented with a further three awards, recognising his very significant contribution to the British Institute of Non-Destructive Testing and the wider NDT community, both in the UK and overseas:

BINDT: Lifetime Achievement Award
The Lifetime Achievement Award has been created to recognise the considerable contribution provided by an individual in the field of non-destructive testing, condition monitoring or other related engineering disciplines, in particular their support for the British Institute of Non-Destructive Testing.
International Committee for NDT (ICNDT): Recognition of Voluntary Effort in NDT
ICNDT recognises the work of individuals and companies who provide consistent voluntary effort over many years in support of NDT.
European Federation for NDT (EFNDT): Recognition of Voluntary Effort in NDT
EFNDT also recognises the work of individuals and companies who provide significant voluntary effort in support of NDT.